Senate Votes 59-41 To Reject Trump's Emergency Declaration To Build Border Wall, Sets Up Veto
The Senate voted overwhelmingly on Thursday afternoon to reject President Donald Trump's emergency declaration to build a wall at the U.S.-Mexico border.
The Republican-controlled upper chamber voted 59-41 to overturn Trump's proclamation, and follows the Democrat-controlled House's rebuke of the president on the issue. Trump could now override Congress's decision with a veto, and although he has not officially stated whether he will pursue this option, a tweet from him on Thursday afternoon shortly after the final vote was announced strongly suggested he will. In total, 12 GOP Senators broke party ranks to vote "yes" on rejecting the emergency declaration. Among these were Sen. Susan Collins (R-Maine), Sen. Mitt Romney (R-Utah), Sen. Marco Rubio (R-Fla.) and Sen. Rand Paul (R-Ky.).
VETO!

— Donald J. Trump (@realDonaldTrump) March 14, 2019

Subscribe!

A week of political news in your in-box.
We find the news you need to know, so you don't have to.

Some top GOP lawmakers, like Sen. Mitch McConnell (R-Ky.) — the Senate majority leader — had warned Trump that bypassing Congress and using his executive powers to build the wall would likely come with legal challenges. Despite this, McConnell voted to approve the president's emergency proclamation.
SLIDESHOW: TOP DEMOCRATS RUNNING FOR PRESIDENT IN 2020
"Never before has a president asked for funding, Congress has not provided it, and the president then has used the National Emergencies Act of 1976 to spend the money anyway," said Sen. Lamar Alexander (R-Tenn.), who also voted yes to overturn Trump's declaration. "The problem with this is that after a Revolutionary War against a king, our nation's founders gave to Congress the power to approve all spending so that the president would not have too much power. This check on the executive is a crucial source of our freedom."
I share President Trump's goal of securing our borders, but expanding the powers of the presidency beyond its constitutional limits is something I cannot support.

Here are my thoughts on how I came to this decision: pic.twitter.com/DEHoBuNdhu

— Senator Jerry Moran (@JerryMoran) March 14, 2019
Trump has long used fear-mongering rhetoric to warn of what he considers unprecedented levels of illegal immigration and criminals entering the U.S. through the southern border. In fact, statistics show apprehensions and arrests at the U.S.-Mexico border and crossings from undocumented migrants are at their lowest levels in years. The president also tried to paint the vote on his emergency declaration as a loyalty vote and blasted Democrats like Rep. Nancy Pelosi (D-Calif.), the House speaker, as supporters of "open borders."
On Monday, Trump announced he is seeking $8.6 billion to finish the construction of the 722-mile border wall as part of the 2020 budget, his latest effort to get the steel barrier built before the 2020 election.
Late last year, Trump went as far as to send thousands of National Guard troops and other military members to the southern border to stop so-called "caravans" of migrants.
Read more about:
Leave a comment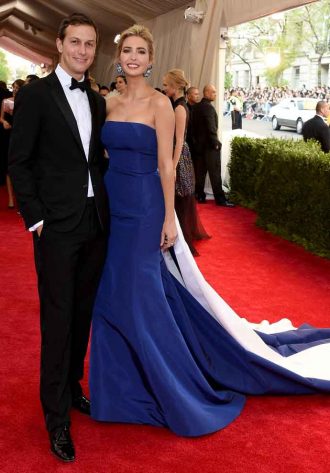 Click here for the 10 Most Powerful Political Couples Slideshow
Listen to the uInterview Podcast!
Get the most-revealing celebrity conversations with the uInterview podcast!