House Votes 245-182 To Reject Trump's National Emergency Declaration On Border Wall
On Tuesday night, the U.S. House of Representatives voted 245 to 182 to reject President Donald Trump's national emergency declaration to build a wall on the U.S.-Mexico border. Thirteen Republicans joined all House Democrats in rebuking Trump.
Trump made the proclamation on Feb. 15 after Congress approved to allot $1.375 billion for the steel  barrier, significantly less than the $5.7 billion he had initially requested.
"This isn't about the border," said Rep. Nancy Pelosi (D-Calif.), the House Speaker who stressed this was a nonpartisan effort to not let the executive branch infringe upon Congress's powers. "This is about the Constitution."
The resolution was brought forth by Rep. Joaquin Castro (D-Tex.) will then be voted on by the Republican-controlled Senate sometime in the next few weeks. On Tuesday, three GOP Senators have publicly stated they would vote to disapprove of Trump's emergency proclamation: Sen. Thom Tillis (R-N.C.) and two key swing votes, Sens. Susan Collins (R-Maine) and Lisa Murkowski (R-Alaska). Only four Republicans would be needed to overturn Trump's declaration, as the resolution requires 51 votes and Democrats hold 47 Senate seats.
"As a U.S. senator, I cannot justify providing the executive with more ways to bypass Congress. As a conservative, I cannot endorse a precedent that I know future left-wing presidents will exploit to advance radical policies that will erode economic and individual freedoms," Thillis wrote in a Washington Post op-ed Monday night. Thillis is up for re-election in 2020.
Sen. Roger Wicker (R-Miss.) told HuffPost he is "inclined" to also vote against Trump's declaration.
SLIDESHOW: TOP DEMOCRATS RUNNING FOR PRESIDENT IN 2020
On Friday, just a week after announcing the emergency declaration, Trump told reporters at the White House he would "100 percent" veto the House's resolution on the issue. However, he has not officially stated if he would do the same if the Senate rejected his declaration.
Trump has repeatedly railed against illegal immigration from Mexico and Latin America, warning of "caravans" of migrants whom he claims bring in drugs and other crime. However, several recent reports show most drugs in the U.S. come through legal ports of entry and on transportation methods like trains and planes. Many reports also reveal immigration levels and apprehensions at the southern border are at their lowest in over a decade. Trump and Democrats' disagreement over the wall led to a record-length, 35-day partial government shutdown that ended Jan. 25 and that left 800,000 federal employees furloughed or without pay. The threat of another shutdown on Feb. 15 loomed afterwards, but the government was ultimately funded until September.
Read more about: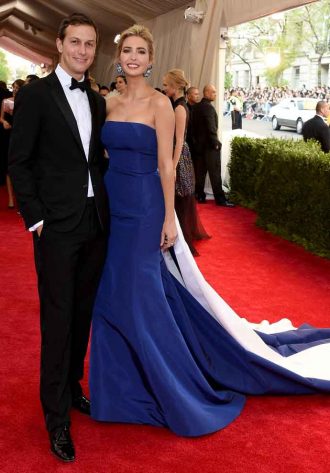 Click here for the 10 Most Powerful Political Couples Slideshow
Listen to the uInterview Podcast!
Get the most-revealing celebrity conversations with the uInterview podcast!