800 Pages Of Emails Reveal Coordination Between Mitch McConnell & Wife Elaine Chao's Offices
A batch of more than 800 pages of emails revealed Tuesday that the offices of Sen. Mitch McConnell (R-Ky.) and his wife, Transportation Secretary Elaine Chao, coordinated multiple times on several matters, including their dealings with McConnell supporters from Kentucky.
The two Republicans represent one of the most powerful political couples in Washington, D.C. According to Politico, Chao — the former secretary of Labor under George W. Bush — has met at least 10 times with public officials and businessman from Kentucky after receiving requests from McConnell's office. The website cited watchdog organization American Oversight for these claims. The group gained access to the emails by using the Freedom of Information Act.
These public and private individuals ultimately received many of the things they had requested, including infrastructure grants and state funds for a highway project. McConnell, the Senate majority leader, has served as a U.S. Senator from Kentucky since 1985.
SLIDESHOW: TOP DEMOCRATS RUNNING FOR PRESIDENT IN 2020
Subscribe!
A week of political news in your in-box.
We find the news you need to know, so you don't have to.
One particular email from February 2017 reveals that, just days after Chao was sworn in as leader of the Transportation Department, McConnell's state director contacted a Chao lieutenant to request she meet with maritime industry lobbyist Jim Adams to discuss proposed changes to "Buy American, Hire American" requirements for offshore drilling supplies. Adams and his wife are reportedly close with Chao and donated to McConnell's 2014 Senate re-election campaign.
A spokesperson for McConnell responded to questions from Politico regarding his and Chao's encounters with Kentucky voters by saying, "the Leader regularly advocates for Kentuckians with Members of the Cabinet and agencies of the federal government."
"He has advocated on behalf of Kentuckians his entire career — and that includes both Republican and Democrat Administrations," the spokesperson added.
Norm Mineta — a Democrat who previously served as Transportation secretary under Bush — told Politico that it "happened a lot" that lawmakers requested he meet with constituents traveling to Washington, D.C.
Last June, Chao confronted several people protesting outside McConnell's office over the separation of immigrant families.
Read more about:
Leave a comment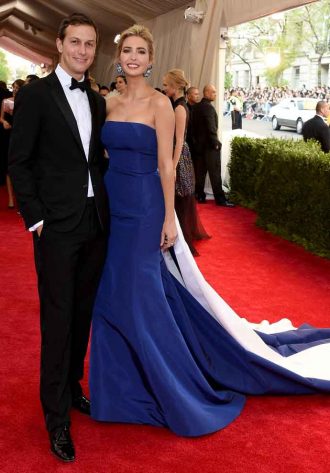 Click here for the 10 Most Powerful Political Couples Slideshow
Listen to the uInterview Podcast!
Get the most-revealing celebrity conversations with the uInterview podcast!