Senate Intelligence Committee Subpoenas Donald Trump Jr. In Russia Probe
The Senate Intelligence Committee on Wednesday issued a subpoena to Donald Trump Jr. 
President Donald Trump's eldest son received the subpoena as part of the GOP-led committee's Russia investigation. Democrats have been accusing Trump Jr. of lying to lawmakers about his statements and actions throughout the 2016 election.
"We do not discuss the details of witness engagements with the committee," stated a spokesperson for the panel, which is led by Sen. Richard Burr (R-North Carolina). "Throughout the investigation, the committee has reserved the right to recall witnesses for additional testimony as needed, as every witness and witness counsel has been made aware."
The latest development concerning Trump Jr. could lead to a dispute with Senate Intelligence Republicans. This congressional subpoena marks the first one given to a member of the president's immediate family.
Subscribe!
A week of political news in your in-box.
We find the news you need to know, so you don't have to.
SLIDESHOW: TOP DEMOCRATS RUNNING FOR PRESIDENT IN 2020
"Don continues to cooperate by producing documents and is willing to answer written questions," said a source close to Trump Jr., who wasn't permitted to speak on the record, told Politico. "But no lawyer would ever agree to allow their client to participate in what is an obvious PR stunt from a so-called 'Republican' senator too cowardly to stand up to his boss [Democratic Sen.] Mark Warner and the rest of the resistance Democrats on the committee."
The exact reason the Senate Intelligence panel wishes to interrogate Trump Jr. again is uncertain. Michael Cohen, Trump's former personal lawyer, confessed before Congress in February that he briefed Trump Jr. and Ivanka Trump on discussions about the infamous Trump Tower Moscow real estate project in 2016.
Trump Jr. also came under close observation following revelations he attended a meeting with a Kremlin-backed Russian lawyer at Trump Tower in New York in June 2016, where the president's eldest son was allegedly given damaging information about Hillary Clinton in exchange for concessions.
Sen. Mitch McConnell (R-Kentucky), the Senate majority leader, blasted any effort to subpoena Trump or his family in comments this week, saying the "case is closed."
I agree with Leader McConnell: this case is closed. The Mueller Report cleared @DonaldJTrumpJr and he's already spent 27 hours testifying before Congress. Dems have made it clear this is all about politics. It's time to move on & start focusing on issues that matter to Americans. https://t.co/11THs9LE0j

— Senator Thom Tillis (@SenThomTillis) May 9, 2019
Read more about:
Leave a comment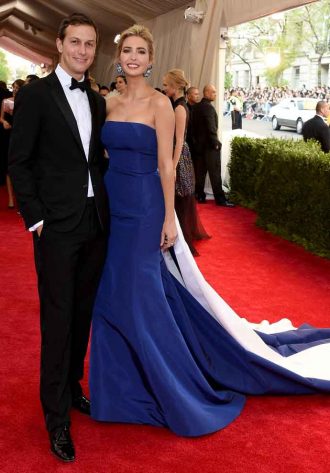 Click here for the 10 Most Powerful Political Couples Slideshow
Listen to the uInterview Podcast!
Get the most-revealing celebrity conversations with the uInterview podcast!