Second Woman, Amy Lappos, Accuses Joe Biden Of Unwanted Touching
A second woman on Monday accused former Vice President Joe Biden of having touched her without her consent.
Amy Lappos told the Connecticut-based Hartford Courant in an interview that during a 2009 fundraiser in Greenwich, Connecticut, Biden pulled her in to "rub noses" with her and that she feared he was going to kiss her.
"It wasn't sexual, but he did grab me by the head," Lappos, who was then an aide to U.S. Rep. Jim Himes (D-Conn.) told the newspaper. "He put his hand around my neck and pulled me in to rub noses with me. When he was pulling me in, I thought he was going to kiss me on the mouth."
Lappos's revelation follows that of Lucy Flores, a former Nevada state assemblywoman who claimed 76-year-old Biden rubbed her shoulders, smelled her hair and kissed the back of her head at a 2014 event. Flores said the former vice president's behavior made her feel "uneasy, gross and confused." Several 2020 Democratic candidates, including Sen. Elizabeth Warren (D-Mass.), said they believed Flores and called for Biden to answer the allegations.
Subscribe!
A week of political news in your in-box.
We find the news you need to know, so you don't have to.
Biden, who is expected to announce a 2020 presidential run soon, is already leading early polls of favorite Democratic candidates despite not having officially launched a bid.
"In my many years on the campaign trail and in public life, I have offered countless handshakes, hugs, expressions of affection, support and comfort," Biden said in a statement in response to the allegations against him. "And not once — never — did I believe I acted inappropriately. If it is suggested I did so, I will listen respectfully. But it was never my intention."
Rep. Nancy Pelosi (D-Calif.), the House Speaker, responded to the accusations against Biden by saying that although she does not believe his behavior disqualifies him for a 2020 presidential run, that Biden must answer for his actions and stop being so tactile with women.
SLIDESHOW: TOP DEMOCRATS RUNNING FOR PRESIDENT IN 2020
Lappos blasted Biden's response by saying: "Referring to this type of behavior as 'simply affection' or 'grandpa-like' or 'friendly' is ridiculously dismissive and part of the problem. Saying 'but Trump …' is dangerous and sets the bar for Democratic men far below where it should be." Lappos added behavior like that of Biden is a form of "sexism" and "misogyny."
President Donald Trump has been accused by multiple women of much more serious offenses like sexual assault, something he even infamously bragged about to Billy Bush in an Access Hollywood tape that was leaked just weeks before the 2016 election.
Read more about:
Leave a comment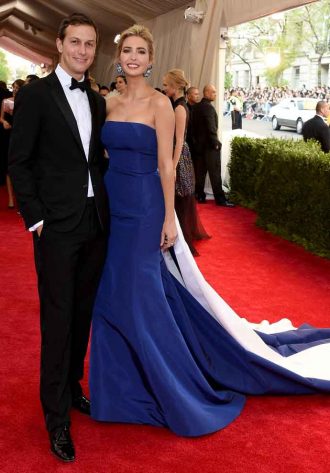 Click here for the 10 Most Powerful Political Couples Slideshow
Listen to the uInterview Podcast!
Get the most-revealing celebrity conversations with the uInterview podcast!