Trump Says There's A "Very Good Likelihood" Of Closing U.S.-Mexico Border This Week
President Donald Trump on Friday reiterated his threat to to close the U.S.-Mexico border in the coming days, saying Friday afternoon "there's a very good likelihood" he could do this.
"Mexico is going to have to do something, otherwise I'm closing the border. I'll just close the border. And with a deficit like we have with Mexico and have had for many years, closing the border would be a profit-making operation. When you close the border also you will stop a lot of the drugs from coming in," Trump told reporters in Florida regarding about illegal immigration through the souther border. "I will close the border if Mexico doesn't get with it. If Mexico doesn't stop it. They come in from Guatemala, they come in from El Salvador, they come in from Honduras, they come in from all over, and they come in from Mexico. And we're working very hard to stop it."
Critics of this proposal have warned that shuttering the U.S.-Mexico border would hurt the American economy because of the large number of goods exchanged between the two nations. For years, the U.S. had a large trade deficit with Mexico, an argument Trump used dating back to the 2016 election to propose the Latin American country pay for the border wall, which is still under construction following the president's national emergency declaration. Nearly $8 billion have been allocated to fund the steel barrier.
SLIDESHOW: TOP DEMOCRATS RUNNING FOR PRESIDENT IN 2020
Subscribe!
A week of political news in your in-box.
We find the news you need to know, so you don't have to.
On Friday morning, Trump fired off several tweets accusing Democrats of weak immigration laws, among other things.
The DEMOCRATS have given us the weakest immigration laws anywhere in the World. Mexico has the strongest, & they make more than $100 Billion a year on the U.S. Therefore, CONGRESS MUST CHANGE OUR WEAK IMMIGRATION LAWS NOW, & Mexico must stop illegals from entering the U.S….

— Donald J. Trump (@realDonaldTrump) March 29, 2019
….through their country and our Southern Border. Mexico has for many years made a fortune off of the U.S., far greater than Border Costs. If Mexico doesn't immediately stop ALL illegal immigration coming into the United States throug our Southern Border, I will be CLOSING…..

— Donald J. Trump (@realDonaldTrump) March 29, 2019
….the Border, or large sections of the Border, next week. This would be so easy for Mexico to do, but they just take our money and "talk." Besides, we lose so much money with them, especially when you add in drug trafficking etc.), that the Border closing would be a good thing!

— Donald J. Trump (@realDonaldTrump) March 29, 2019
Trump has repeatedly made false claims that drugs and other crimes are entering the U.S. through the southern border. In fact, recent reports show illegal crossings and apprehensions at the border have decreased significantly over the last decade.
Read more about:
Leave a comment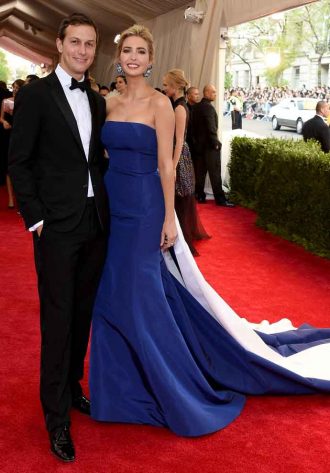 Click here for the 10 Most Powerful Political Couples Slideshow
Listen to the uInterview Podcast!
Get the most-revealing celebrity conversations with the uInterview podcast!