Donald Trump Jr. Says Feds Are Using "Stalinist" Tactics For Probes Against Family
Donald Trump Jr. claimed in an interview on Monday that federal authorities are employing "Stalinist" tactics for their inquiries into his father and the Trump family's businesses.
President Donald Trump's eldest son told Fox & Friends he believes the probes are "as political as it gets" and added he thinks it is the "dream" of the Southern District of New York's federal prosecutors to "find something to get Trump."
In an appearance yesterday on Fox News, Donald Trump Jr. insisted that the president's 2016 campaign team has been unfairly targeted by a "Stalinist" special counsel — and that crimes committed before the election shouldn't count as "actual crimes." https://t.co/YejADD9CLv

Subscribe!

A week of political news in your in-box.
We find the news you need to know, so you don't have to.

— Citizens for Ethics (@CREWcrew) February 26, 2019
"It's that old Stalinist tactic, you know?" said the 41-year-old before adding he's not concerned about the investigations into the Trump Organization "because we know there's nothing there." Trump's eldest son testified before lawmakers last May about his involvement in a June 2016 meeting at Trump Tower with a Russian lawyer named Natalia Veselnitskaya who has connections to the Kremlin. There has been speculation in recent weeks that special counsel Robert Mueller — who is probing Russian interference in the 2016 election and possible collusion between Trump campaign officials and the Kremlin — will indict Trump Jr. However, Mueller's investigation is also said to be very close to its end after 21 months, especially following the confirmation of William Barr as attorney general earlier this month.
Joseph Stalin led the Soviet Union from the mid-1920s until 1953. Trump's eldest son has made claims like this before. Last year, he compared the Democratic Party to Nazis.
Donald Trump Jr. and his brother Eric help run the Trump family's businesses while their father serves as commander-in-chief. The Trump Organization and now-defunct Trump Foundation have been found to have engaged in several illegal activities throughout the years. This week, Trump's former personal lawyer Michael Cohen is set to testify before Congress about he work he performed for Trump. Cohen is also reportedly expected to present documents that prove the Trump Organization and the president himself broke the law.
SLIDESHOW: TOP DEMOCRATS RUNNING FOR PRESIDENT IN 2020
Trump's 2017 inaugural committee is also under federal investigation due to alleged illicit donations from foreign entities.
Read more about:
Leave a comment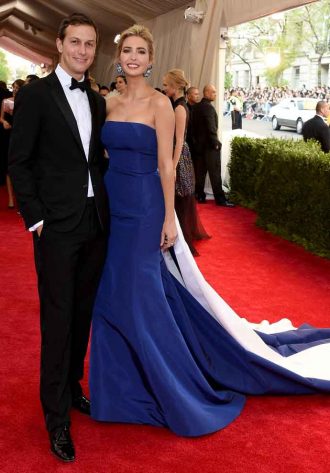 Click here for the 10 Most Powerful Political Couples Slideshow
Listen to the uInterview Podcast!
Get the most-revealing celebrity conversations with the uInterview podcast!