House Judiciary Committee Launches Sweeping Trump Corruption Probe, Requests Documents From 81 Officials
The House Judiciary Committee on Monday initiated a sweeping investigation into President Donald Trump by requesting documents from many people linked to him and his associates.
According to several reports, the panel — led by its chairman, Rep. Jerrold Nadler (D-N.Y.) — requested materials from 81 individuals tied to Trump, more than 60 of which are members of the president's administration.
Nadler said in an interview on ABC News's This Week that the document requests were made to "begin investigations, to present the case to the American people about obstruction of justice, about corruption and abuse of power."
The House Judiciary chairman also revealed the list of individuals contacted for documents includes Donald Trump Jr., Eric Trump, former White House Chief of Staff John Kelly and former White House counsel Don McGhan, as well as the Trump Organization's Chief Financial Officer Allen Weisselberg. 
Subscribe!
A week of political news in your in-box.
We find the news you need to know, so you don't have to.
"Impeachment's a long way down the road," said Nadler, whose panel would begin any impeachment process. "We don't have the facts yet, but we're going to initiate the proper investigations."
SLIDESHOW: TOP DEMOCRATS RUNNING FOR PRESIDENT IN 2020
Nadler added he believes it is "very clear" that Trump obstructed justice.
Since officially regaining the majority in the House of Representatives in January, Democrats have launched or vowed to start multiple inquiries into Trump's tax returns, his inaugural committee, his companies' business practices — including alleged money laundering — and whether or not there has been any foreign influence on him from countries like Russia or Saudi Arabia.
Trump once again blasted Nadler and Democrats on Twitter this week and claimed they are "desperately in search of a crime." He also accused his 2016 opponent Hillary Clinton of colluding with Russia.
Now that they realize the only Collusion with Russia was done by Crooked Hillary Clinton & the Democrats, Nadler, Schiff and the Dem heads of the Committees have gone stone cold CRAZY. 81 letter sent to innocent people to harass them. They won't get ANYTHING done for our Country!

— Donald J. Trump (@realDonaldTrump) March 5, 2019
The greatest overreach in the history of our Country. The Dems are obstructing justice and will not get anything done. A big, fat, fishing expedition desperately in search of a crime, when in fact the real crime is what the Dems are doing, and have done!

— Donald J. Trump (@realDonaldTrump) March 5, 2019
Sarah Huckabee Sanders, the White House Press Secretary, called the House Judiciary's probe a "disgraceful and abusive investigation into tired, false allegations."
"Their intimidation and abuse of American citizens is shameful," Sanders said of House Democrats.
This all comes as special counsel Robert Mueller's investigation into Russian interference in the 2016 election — and potential collusion between Trump campaign officials and the Kremlin — is said to be just days away from ending after nearly two years. Trump's eldest son and executive vice president of the Trump Organization, is speculated to soon be indicted.
Last week, the president's former personal lawyer Michael Cohen delivered a scathing rebuke of Trump's character and business practices in a congressional testimony about his work for Trump over the last decade.
Read more about:
Leave a comment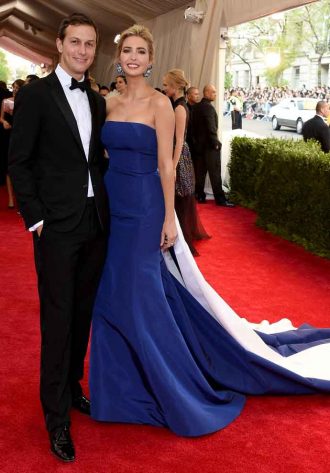 Click here for the 10 Most Powerful Political Couples Slideshow
Listen to the uInterview Podcast!
Get the most-revealing celebrity conversations with the uInterview podcast!