Michael Cohen Says Trump Knew About WikiLeaks' 2016 Hack Of DNC Emails Before Release
Michael Cohen, President Donald Trump's former personal lawyer, told lawmakers in his testimony Wednesday that Trump was aware of WikiLeaks' plan in 2016 to release emails hacked from the Democratic National Committee's servers before the leak occurred.
Rep. Debbie Wasserman Schultz (D-Fla.) — who was ousted as DNC Chair over the hacked emails, some of which were her own — questioned Cohen on his knowledge of WikiLeaks and Russia's scheme to sway the 2016 election in Trump's favor by hurting Democratic opponent Hillary Clinton's campaign.
"[Trump] had advance notice that there was going to be a dump of emails, but at no time did I hear the specificity of what those emails were going to be," said Cohen, who was recently disbarred for his work for Trump.
Wasserman Schultz then asked Cohen if Trump ever shared information about WikiLeaks' DNC email hack with Ivanka Trump, Donald Trump Jr. or Jared Kushner. 
Subscribe!
Stay informed on the latest political news.
"I'm not aware of that," Cohen replied.
Rep. Debbie Wasserman-Schultz, former chairwoman of the DNC: Did Mr. Trump have "advance knowledge of the Russia Wikileaks release of the DNC's emails?"

Michael Cohen: "He had advance notice that there was going to be a dump of emails" https://t.co/e7HUjQ6ceA pic.twitter.com/H9Ffq1aaSz

— This Week (@ThisWeekABC) February 27, 2019
SLIDESHOW: TOP DEMOCRATS RUNNING FOR PRESIDENT IN 2020
The Florida congresswoman also grilled Cohen, 52, on whether Trump or his eldest children and son-in-law were still involved in the alleged Trump Tower real estate deal in Moscow at the time of the DNC hack in 2016.
"The [Trump Organization] was involved in the deal, which meant the family was involved in the deal," Cohen responded.
Trump's former adviser Roger Stone — a longtime Republican operative — was ultimately revealed as the insider who coordinated with WikiLeaks in 2016 to obtain the hacked emails from the DNC and Clinton. Stone's home in Florida was raided by FBI agents last month and he was arrested on charges that include obstruction of justice and lying to Congress. Stone was also recently hit with a gag order for posting a threatening photo on Instagram of the U.S. District Court judge who is handling his case.
If Donald Trump told Robert Mueller, as CNN has reported, that he didn't discuss Wikileaks with Roger Stone, and Michael Cohen is correct in his testimony today that Trump and Stone did talk about Wikileaks, that would be an especially bad lie to tell. pic.twitter.com/2ZmwQ381r3

— Maddow Blog (@MaddowBlog) February 28, 2019
Read more about: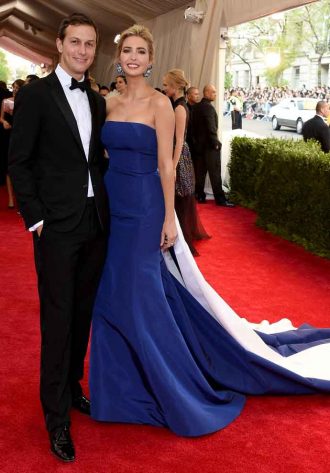 Click here for the 10 Most Powerful Political Couples Slideshow
Listen to the uInterview Podcast!
Get the most-revealing celebrity conversations with the uInterview podcast!