Trump Ordered White House Officials To Give Jared Kushner Top-Secret Security Clearance
It was revealed on Thursday that President Donald Trump ordered White House officials to grant his senior adviser and son-in-law Jared Kushner a top-secret security clearance last year, thus overruling concerns noted by intelligence officials and the White House's top attorney.
Trump reportedly made this decision in May and caused so much worry among top administration officials that at least one person — then-White House Chief of Staff John Kelly — penned an internal memo about how he had been "ordered" to grant Kushner the security clearance.
Donald McGhan —who at the time was the top White House counsel — also reportedly wrote a memo that included worries the CIA, among others, had expressed about giving Kushner the clearance. FBI background checks are typically required before granting high-level security clearances. Democratic lawmakers have threatened to issue subpoenas over Kushner's security clearance.
SLIDESHOW: TOP DEMOCRATS RUNNING FOR PRESIDENT IN 2020
Subscribe!
A week of political news in your in-box.
We find the news you need to know, so you don't have to.
The memos appear to directly contradict remarks Trump made in January during an interview with The New York Times. The president told the newspaper at that time that he had not played any part in giving Kushner the top-secret security clearance.
Both Kushner's attorney Abbe Lowell and his wife Ivanka Trump had claimed at that time that the president's son-in-law went through a standard process to obtain his security clearance. Kushner had initially been place under temporary and interim status for his security clearance.
White House Press Secretary Sarah Huckabee Sanders on Thursday responded to a question regarding Kushner by saying, "We don't comment on security clearances."
Last week, 37-year-old Kushner traveled to the Middle East in hopes of securing a deal for peace in the region. Among the people he met with is the crown prince of Saudi Arabia, Mohammed bin Salman. 
Kushner is known to have attended several important meetings dating back to Trump's 2016 presidential campaign, including the infamous meeting with a Kremlin-connected Russian lawyer at Trump Tower in June 2016, just months before the election. Kushner has been interviewed multiple times by special counsel Robert Mueller's team as part of its investigation into Russian interference during the 2016 election, including possible collusion between Trump campaign officials and the Kremlin.
Kushner's security clearance was reportedly downgraded from interim top secret to secret in February 2018 after then-White House staffer Rob Porter was accused of domestic violence.
Read more about:
Leave a comment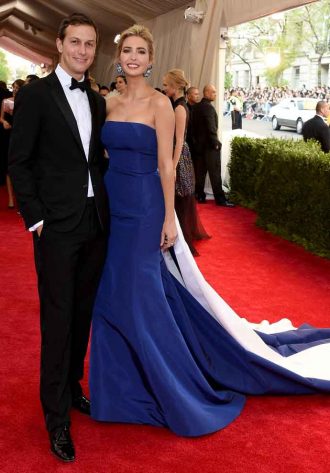 Click here for the 10 Most Powerful Political Couples Slideshow
Listen to the uInterview Podcast!
Get the most-revealing celebrity conversations with the uInterview podcast!