Trump's Anger & Conservative Revolt In House Threatens Deal To Avoid Government Shutdown
A plan to avoid a government shutdown appeared to face threats on Thursday from President Donald Trump's increasing ire and a conservative uprising in the House.
House Republicans seemed "disgruntled" following a conference meeting on Thursday after losing hope that Trump would support a bill that would extend federal funding for the government's nine departments beyond Friday's midnight deadline and through the beginning of February. The looming threat of a shutdown just four days before the Christmas holiday has put many officials in Washington, D.C., on edge recently.
On Wednesday evening, the Senate held a voice vote for the government funding bill, which passed despite it excluding the $5 billion in funds the president has ordered for the southern border wall.
"At this moment, the president does not want to go further without border security, which includes steel slats or a wall," said White House Press Secretary Sarah Huckabee Sanders on Thursday. "The president is continuing to weigh his options."
Subscribe!
A week of political news in your in-box.
We find the news you need to know, so you don't have to.
SLIDESHOW: DONALD TRUMP'S 30 CRAZIEST TWEETS
Earlier this month, Trump got into a heated, televised discussion with two prominent Democrats — California Rep. Nancy Pelosi, the projected next House Speaker, and New York Sen. Chuck Schumer — in the Oval Office about illegal immigration and the border wall. Pelosi and Schumer tried to explain to the president why building and funding a wall was not viable or sensible, and have remained adamant that their party will not approve a bill that includes funding for the barrier.
Trump threatened to close the government if Democrats — who hold the majority in the House of Representatives — refused to compromise on immigration, although he told Schumer and Pelosi that he would accept responsibility for the shutdown rather than blame them for it.
Meanwhile, the hard-line House Freedom Caucus and many of Trump's other supporters have voiced frustration with what they view as a retreat from the president one one of his longest-standing 2016 campaign pledges.
In a series of tweets Thursday morning, Trump vented about Democrats "putting politics over Country" with regards to their stance on immigration and border security. He also complained that when he "begrudgingly" signed a $1.3 trillion spending bill in March called the Omnibus Bill, congressional leadership had "promised" him the border wall would be constructed.
The Democrats, who know Steel Slats (Wall) are necessary for Border Security, are putting politics over Country. What they are just beginning to realize is that I will not sign any of their legislation, including infrastructure, unless it has perfect Border Security. U.S.A. WINS!

— Donald J. Trump (@realDonaldTrump) December 20, 2018
With so much talk about the Wall, people are losing sight of the great job being done on our Southern Border by Border Patrol, ICE and our great Military. Remember the Caravans? Well, they didn't get through and none are forming or on their way. Border is tight. Fake News silent!

— Donald J. Trump (@realDonaldTrump) December 20, 2018
When I begrudgingly signed the Omnibus Bill, I was promised the Wall and Border Security by leadership. Would be done by end of year (NOW). It didn't happen! We foolishly fight for Border Security for other countries – but not for our beloved U.S.A. Not good!

— Donald J. Trump (@realDonaldTrump) December 20, 2018
House Speaker Paul Ryan also reportedly canceled a press conference after Trump angrily called him about this issue.
A stopgap bill on federal funding may also hinder House Democrats' attempts to begin promoting their platform as the incoming majority party in the lower chamber of Congress.
Trump may attempt to make one last push for a border wall in his State of the Union address in January.
Read more about:
Leave a comment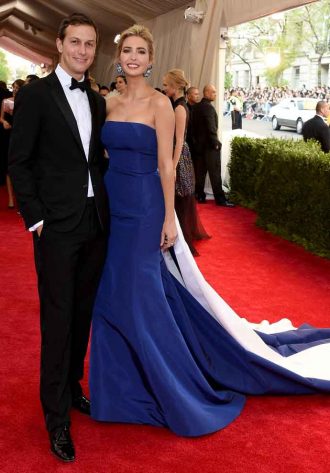 Click here for the 10 Most Powerful Political Couples Slideshow
Listen to the uInterview Podcast!
Get the most-revealing celebrity conversations with the uInterview podcast!