Trump Fights With Pelosi & Schumer On Camera, Vows To Shut Down Government If Border Wall Is Not Funded
On Tuesday, President Donald Trump publicly argued with Democratic congressional leaders at the White House and threatened he would be "proud" to shut down the government should the party fail to support funding for the southern border wall to curb illegal immigration.
"If we don't have border security, we'll shut down the government — this country needs border security," Trump said while speaking in the Oval Office to New York Sen. Chuck Schumer and California Rep. Nancy Pelosi, the likely next Speaker of the House. Both Democratic lawmakers have repeatedly voiced their fervent opposition to funding the border wall as a compromise on immigration. The pair reportedly asked the president on Tuesday to keep their discussions on the issue private, but instead it took place in front of several television cameras. Vice President Mike Pence was also in the Oval Office as Trump sparred with Pelosi and Schumer.
"It's not bad, Nancy; it's called transparency," Trump told Pelosi after the veteran California congressman seemed to anger the president by criticizing his proposal of the wall and citing its large economic cost and by pointing that this was a senseless reason to shut down the federal government. "The American people recognize that we must keep government open, that a shutdown is not worth anything, and that we should not have a Trump shutdown," Pelosi stated.
Trump, Pelosi and Schumer spar in the Oval Office front of cameras over a deal for funding the government pic.twitter.com/5YdBSSn7UF

— Axios (@axios) December 11, 2018
SLIDESHOW: DONALD TRUMP'S 30 CRAZIEST TWEETS
Trump and lawmakers must agree to a deal on immigration by Dec. 21 in order to avoid a shutdown.
In remarks to reporters after the Oval Office meeting on Tuesday, Schumer blasted Trump for his petulant behavior on the issue. "This temper tantrum that [Trump] seems to throw will not get him his wall and it will hurt a lot of people because he will cause a shutdown," said Schumer.
In a joint statement late Monday, Pelosi and Schumer also said: "This holiday season, the president knows full well that his wall proposal does not have the votes to pass the House and Senate, and should not be an obstacle to a bipartisan agreement."
Trump's remarks on the wall appeared slightly different than usual Tuesday morning. In a series of tweets, he falsely claimed that large portions of the "Great Wall" along the border with Mexico — one of his longest-standing 2016 campaign promises — have already been finished and that his administration could keep pushing for its construction regardless of whether or not congressional Democrats choose to fund it. He also claimed Democratic lawmakers "voted for a Wall" in 2006 and warned that the military could help build the rest of the wall if the party continues to refuse to provide funding for it.
Despite the large Caravans that WERE forming and heading to our Country, people have not been able to get through our newly built Walls, makeshift Walls & Fences, or Border Patrol Officers & Military. They are now staying in Mexico or going back to their original countries…….

— Donald J. Trump (@realDonaldTrump) December 11, 2018
…..Ice, Border Patrol and our Military have done a FANTASTIC job of securing our Southern Border. A Great Wall would be, however, a far easier & less expensive solution. We have already built large new sections & fully renovated others, making them like new. The Democrats,…..

— Donald J. Trump (@realDonaldTrump) December 11, 2018
….however, for strictly political reasons and because they have been pulled so far left, do NOT want Border Security. They want Open Borders for anyone to come in. This brings large scale crime and disease. Our Southern Border is now Secure and will remain that way…….

— Donald J. Trump (@realDonaldTrump) December 11, 2018
…..I look forward to my meeting with Chuck Schumer & Nancy Pelosi. In 2006, Democrats voted for a Wall, and they were right to do so. Today, they no longer want Border Security. They will fight it at all cost, and Nancy must get votes for Speaker. But the Wall will get built…

— Donald J. Trump (@realDonaldTrump) December 11, 2018
….People do not yet realize how much of the Wall, including really effective renovation, has already been built. If the Democrats do not give us the votes to secure our Country, the Military will build the remaining sections of the Wall. They know how important it is!

— Donald J. Trump (@realDonaldTrump) December 11, 2018
Trump drew criticism in the weeks leading up to the midterm elections for spreading fear about illegal immigration, particularly the so-called "migrant caravan" of thousands of people from Latin America traveling across the continent to reach the southern border. The president deployed more than 5,000 troops to the border as a response to the caravan and warned migrants could be shot by the military if they throw rocks as a defense. Trump even shared a racist immigration ad on Twitter that depicted a Mexican national as a "cop killer."
Meanwhile, many Republican lawmakers are reportedly dedicated to supporting Trump and his insistence on increased border security, including funding for the wall if necessary.
Recent reports have noted that Trump is feeling nervous for several reasons. Aside from Democrats gaining the majority in the House of Representatives in the midterm elections — which means they can investigate Trump on a series of issues, including his tax returns — the president is mired in several scandals including Special Counsel Robert Mueller's probe, which continues to produce guilty charges and indictments. On top of all this, Trump is also said to be worried about impeachment given new revelations about him being directly implicated in his former personal lawyer Michael Cohen's hush money payments to his alleged mistresses. Cohen pleaded guilty to several charges this year, including bank and tax fraud, campaign finance violations and lying to Congress and will be sentenced Wednesday to a "substantial" prison term of about four to five years.
Read more about: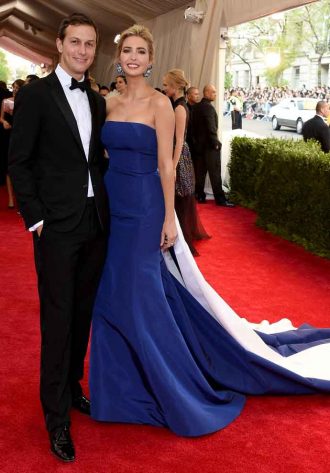 Click here for the 10 Most Powerful Political Couples Slideshow
Listen to the uInterview Podcast!
Get the most-revealing celebrity conversations with the uInterview podcast!