Donald Trump Accuses Caravan Migrants Of Being Child "Grabbers" – Using Kids As "Human Shields"
President Donald Trump has again highlighted the immigrant caravan, accusing those in it of being dangerous and of being "grabbers" – people who grabbed kids to use as shields.
While at a Mississippi rally on Monday, Trump discussed the migrants coming to the United States on the caravan. "We've had some very violent people, and we don't want, frankly, those people in our society," Trump claimed. "We don't want those people in our country. Three Border Patrol people yesterday were very badly hurt, getting hit with rocks and stones."
Kevin K. McAleenan, the commissioner of the U.S. Customs and Border Protection, claimed a few border control agents had been struck with rocks during an "extremely dangerous situation." The officers weren't severely injured. However, border agents fired tear gas and other objects at the immigrant group that had rushed the border. According to McAleenan, 69 individuals were detained.
SLIDESHOW: DONALD TRUMP'S 30 CRAZIEST TWEETS
Subscribe!
A week of political news in your in-box.
We find the news you need to know, so you don't have to.
Trump asked, "Why are they there? First of all, the tear gas is a very minor form of the tear gas itself; it's very safe, the ones that were suffering to a certain extent were the people that were putting it out there. But you really say, why is a parent running up into an area where they know the tear gas is forming, and it's going to be formed, and they're running up with a child?"
Continuing, Trump accused some of the migrants of grabbing children to use as shields or for some other kind of protection. "In some cases, you know, they're not the parents. These are people, they call 'em 'grabbers'  – they grab the child, because they think they're gonna have a certain status by having a child. You know, you have certain advantages and things with our crazy laws that frankly Congress should be changing. You know, if you change the laws, you wouldn't have this problem."
Trump pressed on, commenting that "grabbers" is a term "he's heard" others use. "They grab a child, because when they have a child, they feel a lot safer. When you know there's going to be potential violence, you know there's going to be tear gas or something, you don't take your child and bring them there. I can say that all over the border, you have a lot of grabbers, you have a lot of people who grab children, and they have no idea who these children are. They're not parents. They have no idea. And frankly to release the children to these people is a disaster."
Homeland Security Secretary Kirstjen Nielsen shares Trump's position. On Monday, she said, "In some cases that the limited number of women and children in the caravan are being used by the organizers as 'human shields' when they confront law enforcement."
Read more about:
Leave a comment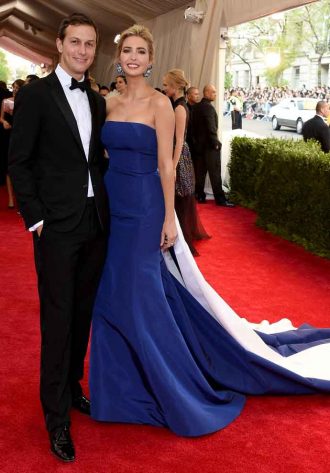 Click here for the 10 Most Powerful Political Couples Slideshow
Listen to the uInterview Podcast!
Get the most-revealing celebrity conversations with the uInterview podcast!