Trump Won't Commit To Publicly Releasing Mueller's Russia Report
President Donald Trump on Sunday refused to commit to releasing the results of special counsel Robert Mueller's report of his investigation on Russia's links to his 2016 campaign.
In an interview on CBS's Face the Nation, Trump repeated he believed Mueller's probe — which began in May 2017 and which was recently granted a six-month extension — should end.
"I don't know," the president responded when asked if he would allow the results of Mueller's report to be made public. "It depends. I have no idea what it's going to say."
The Justice Department is not legally required to release a report on the inquiry, and the special counsel has not spoken publicly about it in recent days. During his Senate confirmation hearings last month, attorney general nominee William Barr revealed he and Mueller are longtime friends and said it was crucial for his investigation to be permitted to conclude. Acting Attorney General Matt Whitaker, a controversial pick many legal pundits have called unconstitutional, recently said Mueller's probe would end soon. Whitaker famously said upon replacing Jeff Sessions late last year that he believed he could lawfully undermine the special counsel's inquiry.
Subscribe!
A week of political news in your in-box.
We find the news you need to know, so you don't have to.
TRUMP makes brazen attempt to gaslight, tells CBS of Roger Stone's alleged crimes, "Even the Mueller report said it had nothing to do with the campaign."

There is no "Mueller report"! Let alone one that exonerates the president. pic.twitter.com/4xT1pGG8v4

— Aaron Rupar (@atrupar) February 3, 2019
SLIDESHOW: DONALD TRUMP'S 30 CRAZIEST TWEETS
This all comes as Trump and his administration are facing other issues, like the standoff with lawmakers over border security and wall funding that resulted in a 35-day federal shutdown. Although the government re-opened on Jan. 25, it is only funded until Feb. 15, which means another shutdown could occur. According to reports over the weekend, the president is prepared to bypass Congress and declare a national emergency to get the border barrier funded, even if it means closing the government again.
Trump also recently faced backlash for his alleged interest in withdrawing from NATO, and over his decisions regarding when to pull troops out of Syria and Afghanistan. In the interview on Face the Nation, Trump replied to a question on the latter issue by bragging that he "ran against 17 Republicans" in 2016 and won.
"I'll leave intelligence there," the president said," and if I see nests forming, I'll do something about it."
.@realDonaldTrump says "we'll come back if we have to" when @margbrennan asks about a potential resurgence of ISIS in Iraq and Syria, "We have very fast airplanes, we have very good cargo planes. We can come back very quickly." pic.twitter.com/cEaC0i8Qk1

— Face The Nation (@FaceTheNation) February 3, 2019
Just last week, Trump dismissed his intelligence chiefs as "passive and naive" after they gave him critical warnings about ISIS, Iran and North Korea, and said they should "go back to school."
Read more about:
Leave a comment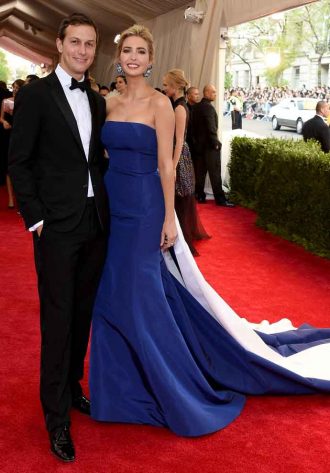 Click here for the 10 Most Powerful Political Couples Slideshow
Listen to the uInterview Podcast!
Get the most-revealing celebrity conversations with the uInterview podcast!