Trump's Intel Leaders Contradict His Claims On ISIS, Iran & North Korea, President Calls Them "Passive & Naive"
President Donald Trump has long insisted the policies enacted by his administration have thus far been a success, combating ISIS and lessening the danger posed by North Korea and Iran. However, his top security officials refuted his claims on Tuesday, spurring Trump to berate them publicly.
Dan Coats, the Trump-appointed director of national intelligence, spoke on Tuesday before the Senate Intelligence Committee, discussing critical national security issues. Speaking on behalf of Trump's intelligence community, Coats' claims openly contradicted several Trump has made. With regard to Iran, Coats said, "We do not believe Iran is currently undertaking the key activities we judge necessary to produce a nuclear device," adding later how the country has "publicly threatened to push the boundaries" of the nuclear deal should it fail to gain anything out of the deal.
SLIDESHOW: DONALD TRUMP'S 30 CRAZIEST TWEETS
In terms of North Korea, Coats disagrees with Trump's assessment that it no longer poses a danger to the United States. "We currently assess that North Korea will seek to retain its [nuclear weapon] capabilities and is unlikely to completely give up its nuclear weapons and production capabilities because its leaders ultimately view nuclear weapons as critical to regime survival," Coats claimed.
Subscribe!
Stay informed on the latest political news.
And when ISIS was brought up, the intelligence community's assessment once again clashed with the president's. Whereas Trump boasted late last year of how "badly" ISIS was beat and planned to withdraw troops from Syria, Coats believes the terrorist organization will "very likely will continue to pursue external attacks from Iraq and Syria against regional and Western adversaries, including the United States. ISIS is intent on resurging and still commands thousands of fighters in Iraq and Syria."
On Wednesday, Trump fired back at his own intel committee through a series of tweets. The Commander in Chief maintains "tremendous progress" was made in stopping ISIS and in connecting with North Korea, adding how relations with the latter "is the best it has ever been." He also accused his intelligence committee of becoming "extremely passive and naive" of the threat posed by Iran, wondering if his appointees "should go back to school."
When I became President, ISIS was out of control in Syria & running rampant. Since then tremendous progress made, especially over last 5 weeks. Caliphate will soon be destroyed, unthinkable two years ago. Negotiating are proceeding well in Afghanistan after 18 years of fighting..

— Donald J. Trump (@realDonaldTrump) January 30, 2019
….Fighting continues but the people of Afghanistan want peace in this never ending war. We will soon see if talks will be successful? North Korea relationship is best it has ever been with U.S. No testing, getting remains, hostages returned. Decent chance of Denuclearization…

— Donald J. Trump (@realDonaldTrump) January 30, 2019
…Time will tell what will happen with North Korea, but at the end of the previous administration, relationship was horrendous and very bad things were about to happen. Now a whole different story. I look forward to seeing Kim Jong Un shortly. Progress being made-big difference!

— Donald J. Trump (@realDonaldTrump) January 30, 2019
The Intelligence people seem to be extremely passive and naive when it comes to the dangers of Iran. They are wrong! When I became President Iran was making trouble all over the Middle East, and beyond. Since ending the terrible Iran Nuclear Deal, they are MUCH different, but….

— Donald J. Trump (@realDonaldTrump) January 30, 2019
….a source of potential danger and conflict. They are testing Rockets (last week) and more, and are coming very close to the edge. There economy is now crashing, which is the only thing holding them back. Be careful of Iran. Perhaps Intelligence should go back to school!

— Donald J. Trump (@realDonaldTrump) January 30, 2019
Trump is currently slated to meet North Koran leader Kim Jong Un again for a second summit next month, having expressed his excitement for the progress "being made."
Read more about: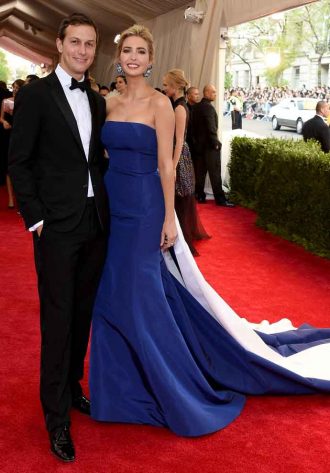 Click here for the 10 Most Powerful Political Couples Slideshow
Listen to the uInterview Podcast!
Get the most-revealing celebrity conversations with the uInterview podcast!