Trump Reportedly Refuses To Listen To Intelligence Briefers, Who Call His Attitude "Willful Ignorance"
It is known by now that President Donald Trump often dismisses his intelligence briefers, and last week these senior officials commented on their treatment.
According to Time, intelligence officials blasted Trump's intransigent behavior with regard to security issues, calling it a sign of "willful ignorance." Among these officials were analysts who prepare the president's briefs, and they explained their frustration with having to constantly use visual aids, keep points worryingly short and repeatedly including Trump's name and title so that he pays attention.
This is concerning for many reasons, the main one evidently being that intelligence officials and agencies are supposed to brief the president on key national security issues at home and abroad. The U.S.'s intelligence services cost roughly $81 billion per year. Last week, Trump blasted intelligence briefers as "passive and naive" and said they should "go back to school" after they gave him key information regarding the Islamic State of Iraq and Syria (ISIS), Iran and North Korea.
SLIDESHOW: DONALD TRUMP'S 30 CRAZIEST TWEETS
Subscribe!
A week of political news in your in-box.
We find the news you need to know, so you don't have to.
These officials say they are concerned about Trump's frequent furious reactions when they provide him with intel that opposes what he believes. They chose to remain anonymous because the intelligence briefings they talk about are classified. Regarding North Korea, officials say they are troubled by Trump's lack of understanding of the threat the regime's nuclear capabilities pose. Trump is known for having a friendly relationship with Kim Jong-Un, despite the two not getting along early in the former's presidency.
In July, Trump infamously ignored national agencies' assessment that Russia interfered in the 2016 U.S. election during a press conference following a summit between him and Vladimir Putin in Helsinki, Finland.
Intelligence officials even reportedly attempted to respond to Trump's reactions to their briefs with dark humor and other types of jokes. They described one particular incident in which the president was prepped for a meeting with British Prime Minister Theresa May. Officials explained to Trump that the British Indian Ocean Territory of Diego Garcia is home to a major airbase and a U.S. Naval Support Facility that are both key to helping the U.S. assert power in the region.
Trump reportedly responded of the island: "Are the people nice, and are the beaches good?"
"Some of us wondered if he was thinking about our alliance with the Brits and the security issues in an important area where the Chinese have been increasingly active, or whether he was thinking like a real estate developer," one unnamed official replied.
Among the other foreign policy issues intelligence officials have voiced concern about is Trump's hasty withdrawal of troops from Syria and Afghanistan, and the possible emboldening of ISIS.
Read more about:
Leave a comment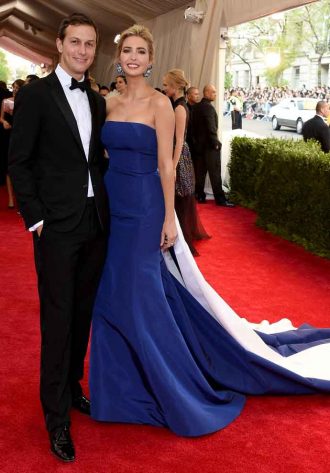 Click here for the 10 Most Powerful Political Couples Slideshow
Listen to the uInterview Podcast!
Get the most-revealing celebrity conversations with the uInterview podcast!