Steve Mnuchin Says He'll Protect Trump's Tax Returns When House Democrats Request Them
Treasury Secretary Steve Mnuchin has said he would protect President Donald Trump's privacy should he receive a request from House Democrats for Trump's tax returns.
Mnuchin was asked during a House Ways and Means Committee hearing if he would comply with a request for the president's tax returns.
"We will examine the request and we will follow the law … and we will protect the president as we would protect any taxpayer" with regards to their privacy rights, Mnuchin replied.
Rep. Richard Neal (D-Mass.), the Ways and Means Committee chairman, is set to formally demand Trump's tax returns, as House Democrats are determined to learn more about the president's business dealings to see if he has any conflicts of interest or was illegally influenced by any foreign countries like Russia or Saudi Arabia. Democrats also likely wish to determine if Trump benefited in any way from the Republican-written tax law enacted in 2017.
Subscribe!
A week of political news in your in-box.
We find the news you need to know, so you don't have to.
SLIDESHOW: TOP DEMOCRATS RUNNING FOR PRESIDENT IN 2020 
Neal is just one of three lawmakers authorized under a seldom used 1924 law to make a written request for anybody's tax returns to Mnuchin. An unprecedented legal dispute between the White House and the Democratic-controlled House could potentially ensue if Mnuchin refuses to comply with the request.
Trump has been the first president in more than three decades to refuses the public release of his tax returns. Dating to the 2016 election, he used several excuses for not wanting to reveal his taxes, including claims that he was under audit by the Internal Revenue Service. Trump also said the press alone cared about his tax returns, and not the American people. Democrats have even said they are prepared to use subpoena power to obtain Trump's taxes.
In a congressional testimony last month, Trump's former personal lawyer Michael Cohen suggested the president may have lied about his taxes being under audit.
Over the weekend, the Washington state Senate passed a bill that would remove Trump from the 2020 ballot unless he releases his tax returns before the next presidential election.
JUST IN: Washington Senate passes bill that would keep Trump off 2020 ballot unless he releases tax returns https://t.co/WrBjtACrQM pic.twitter.com/f5hV1npHR1

— The Hill (@thehill) March 17, 2019
Several Democrat-led House committees are investigating Trump on several issues including alleged money laundering practices used by the Trump Organization.
Read more about:
Leave a comment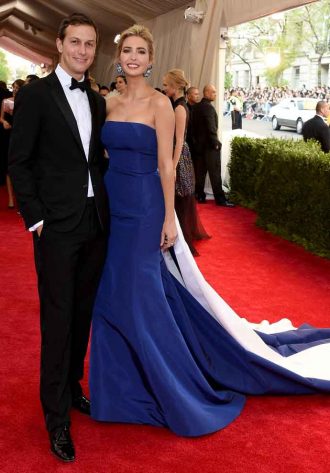 Click here for the 10 Most Powerful Political Couples Slideshow
Listen to the uInterview Podcast!
Get the most-revealing celebrity conversations with the uInterview podcast!