Stacey Abrams Will Not Run For Senate In 2020 [VIDEO]
On Tuesday, Georgia Democrat Stacey Abrams announced she will not run for a Senate seat in 2020.
Abrams, 45, did not state whether or not she would run for president, something she has been speculated to do for some time.
Many prominent Democrats around the country had been encouraging Abrams to run for Senate in Georgia against Sen. David Perdue (R-Georgia) a fervent ally of President Donald Trump. 
Abrams rose to national prominence late last year after running for Governor of Georgia against Republican Brian Kemp, who ultimately won the race by a narrow margin despite allegations that his campaign team attempted to suppress minority votes in the state. Abrams also delivered the rebuttal to this year's State of the Union Address, and had been speculated to join Joe Biden as his running mate for the 2020 presidential race. However, those rumors now appear to have been laid to rest. Kemp will be up for re-election in 2022, so there is a chance Abrams could make a second bid for the governorship then.
SLIDESHOW: TOP DEMOCRATS RUNNING FOR PRESIDENT IN 2020
With Stacey Abrams' no-go in GA-SEN & with a challenging 2020 SEN map, every Dem presidential candidate needs to answer:

What can you legitimately get done if Mitch McConnell remains Senate majority leader in 2021?

Cabinet? Courts? M4A? Climate? Taxes? https://t.co/0OGOq2DL66

— Mark Murray (@mmurraypolitics) April 30, 2019
"I am so grateful for all of the support and encouragement I have received from fellow Georgians, to leaders of Congress and beyond," she said in a video announcing her decision. "However the fights to be waged require a deep commitment to the job, and I do not see the U.S. Senate as the best role for me in this battle for our nation's future."
Abrams added she would make every effort to help Georgia elect a Democrat to the Senate in 2020.
I am grateful for all the encouragement I received to run for U.S. Senate, and I'm committed to doing everything I can to help elect a Democrat to that seat next year. #gapol pic.twitter.com/5o14BqgqwO

— Stacey Abrams (@staceyabrams) April 30, 2019

In her State of the Union response, Abrams called for implementing new, progressive policies to improve the economy and healthcare.
Read more about: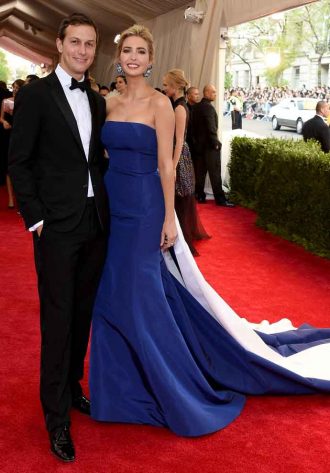 Click here for the 10 Most Powerful Political Couples Slideshow
Listen to the uInterview Podcast!
Get the most-revealing celebrity conversations with the uInterview podcast!