Stacey Abrams Delivers Impassioned Rebuttal To Donald Trump's State Of The Union [VIDEO]
Stacey Abrams was the Democratic nominee in the Georgia gubernatorial race last year, narrowly losing to incumbent Governor Brian Kemp. Her party nevertheless still has great confidence in her, as she was selected to deliver the Democratic response to Donald Trump's State of the Union address.
"She is just a great spokesperson," said Senate Minority Leader Chuck Schumer. "She is an incredible leader. She has led the charge for voting rights, which is at the root of just about everything else. And she has, if you look at her background — she knows what working people, middle-class people go through."
Abrams took the stage last night shortly after Trump finished his speech, introducing herself to the American public. She began her 11-minute rebuttal by discussing her childhood, explaining how her family alternated being in the lower middle and working classes. Her mother was a librarian and her father a shipyard worker, both of whom instilled their values in their children.
SLIDESHOW: DONALD TRUMP'S 30 CRAZIEST TWEETS
Subscribe!
A week of political news in your in-box.
We find the news you need to know, so you don't have to.
Sometimes her father hitchhiked to his job since the family only had one car. One night it was raining, causing Abrams' mother to start worrying for his safety. They left and found him hitchhiking without his jacket, explaining that he gave it to a homeless man. When asked why he'd give away his only coat, Abrams' father explained how he knew his family is there to support him while that homeless man would would still be alone when he left.
It's an anecdote that embodied the nature of the United States' mantra, how hard work and brotherhood is fundamental. Abrams continued, discussing how these values inspired her to run in Georgia and, a few weeks ago, to join volunteers in distributing "meals to furloughed federal workers." She described the partial government shutdown as a "stunt" Trump "engineered" (originally, Schumer and Nancy Pelosi convinced Trump to own a shutdown, although Trump had since tried to blame it on Democrats), and chastised it for betraying the country's values.
Abrams then brought her tenure as head of her party in the Georgia House of Representatives, explaining how when her party worked with Republicans to ensure better livelihoods for their people. She comments how children deserve "safe schools and the highest standards, regardless of ZIP code," something Trump's administration hasn't been delivering on. Abrams adds how the goverment "must be willing to tackle gun safety measures and face the crippling effect of educational loans, to support educators and invest what is necessary to unleash the power of America's greatest minds."
50 CELEBRITIES WHO DIED IN 2018 – TRIBUTE SLIDESHOW
She also addressed American families, most of whom are living paycheck to paycheck and lack the safety net labor unions provide. The recent Republican tax is bill "rigged the system against working people," she added. Other areas are in need of progress too, such as climate change, which House Democrats see as a priority. And although Abrams did acknowledge her loss to Kemp, voter suppression is another problem she believes must be addressed.
Abrams closed by saying that while she may be "disappointed" with how Trump is tackling these issues, she doesn't want him to fail. "Our progress has always found refuge in the basic instinct of the American experiment — to do right by our people," Abrams said. "And with a renewed commitment to social and economic justice, we will create a stronger America together. Because America wins by fighting for our shared values against all enemies, foreign and domestic. That is who we are, and when we do so — never wavering — the state of our union will always be strong."
Abrams' entire speech can be seen below:
Read more about:
Leave a comment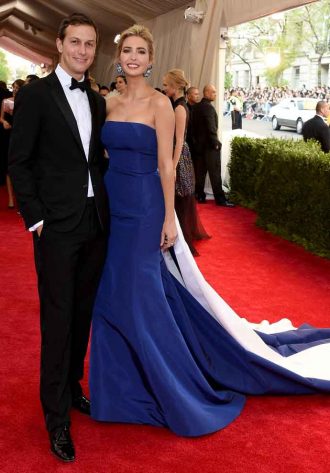 Click here for the 10 Most Powerful Political Couples Slideshow
Listen to the uInterview Podcast!
Get the most-revealing celebrity conversations with the uInterview podcast!