Republicans Slam Donald Trump For Withdrawing U.S. Troops From Syria
President Donald Trump's administration announced Wednesday that some of the 2,000 troops fighting terrorist group ISIS in Syria will be sent home, and GOP lawmakers quickly condemned the White House's move.
Hawkish Republicans like South Carolina Sen. Lindsey Graham blasted Trump's decision in a meeting with Vice President Mike Pence. According to Politico, Graham told Pence he felt "personally offended" to learn about the decision in the news instead of via the president or his aides.
"We're going to hold the administration accountable for this decision," Graham said he told Pence. "If Obama had done this, all of us would be going nuts because it's such a bad idea. The job of the Congress is to hold the executive branch accountable. He's the commander in chief, but he needs to be held accountable for his decisions. And I want hearings as soon as possible."
Graham has wavered between criticizing and praising Trump since he first ran for president in 2016.
Subscribe!
A week of political news in your in-box.
We find the news you need to know, so you don't have to.
In a tweet on Thursday, Trump wrote he found it "so hard to believe that Lindsey Graham would be against saving soldier lives and billions of $$$."
SLIDESHOW: DONALD TRUMP'S 30 CRAZIEST TWEETS
So hard to believe that Lindsey Graham would be against saving soldier lives & billions of $$$. Why are we fighting for our enemy, Syria, by staying & killing ISIS for them, Russia, Iran & other locals? Time to focus on our Country & bring our youth back home where they belong!

— Donald J. Trump (@realDonaldTrump) December 20, 2018
Graham also responded to a tweet from Trump by saying media outlets are right in reporting that Russia, Iran and Syrian leader Bashar Al-Assad are pleased with the U.S.'s decision to withrdraw from the Middle Eastern nation.
It is not FAKE NEWS that Russia, Iran, and Assad are unhappy about our decision to withdraw from Syria.

They are ECSTATIC! https://t.co/7cZgEDBbdT

— Lindsey Graham (@LindseyGrahamSC) December 20, 2018
The White House claimed Wednesday that the U.S. and its allies had defeated the Islamic State in Syria (ISIS).
Florida Sen. Marco Rubio was another Republican who warned that the administration's latest military decision could have major consequences.
"Virtually everyone who spoke, spoke in opposition to the decision," Rubio said. "I didn't hear anybody that disagreed with the view I've taken … this is a major mistake. And I hope they reverse it. Because if not, I think it will haunt this administration."
Sen. John Cornyn of Texas, the Senate majority whip, said the White House's announcement took him and many of his fellow GOP lawmakers completely by surprise. National Security Adviser John Bolton reportedly called Cornyn to explain the move.
Meanwhile, Nebraska GOP Sen. Ben Sasse — another frequent Trump critic whose name has been floated as a potential 2020 presidential candidate — also slammed the decision, noting how many groups would be hurt by it.
"The losers are Israel, humanitarian victims, and U.S. intelligence gathering," said Sasse of the decision. "A lot of American allies will be slaughtered if this retreat is implemented."
TONIGHT: Mission Accomplished in Syria? Trump seems to think so. #LSSC pic.twitter.com/SkHYErbOHI

— The Late Show (@colbertlateshow) December 20, 2018
Not all Republicans were displeased with Trump's announcement, however. Sen. Rand Paul of Kentucky lauded the move, according to POLITICO. However, Paul did not attend his fellow lawmakers' lunch with Pence.
Getting out of Syria was no surprise. I've been campaigning on it for years, and six months ago, when I very publicly wanted to do it, I agreed to stay longer. Russia, Iran, Syria & others are the local enemy of ISIS. We were doing there work. Time to come home & rebuild. #MAGA

— Donald J. Trump (@realDonaldTrump) December 20, 2018
Does the USA want to be the Policeman of the Middle East, getting NOTHING but spending precious lives and trillions of dollars protecting others who, in almost all cases, do not appreciate what we are doing? Do we want to be there forever? Time for others to finally fight…..

— Donald J. Trump (@realDonaldTrump) December 20, 2018
In a statement, White House Press Secretary Sarah Huckabee Sanders said these victories over ISIS in Syria do not signal the end of the Global Coalition or its campaign." Sanders also said American troops will keep striving "to deny radical Islamist terrorists territory, funding, support, and any means of infiltrating our borders."
Read more about:
Leave a comment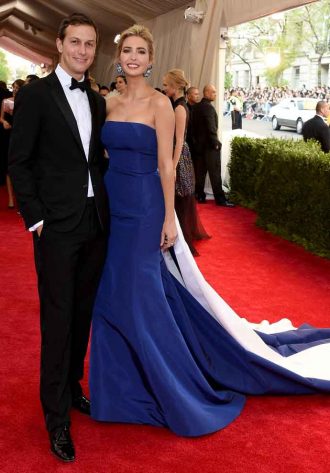 Click here for the 10 Most Powerful Political Couples Slideshow
Listen to the uInterview Podcast!
Get the most-revealing celebrity conversations with the uInterview podcast!