Beto O'Rourke Calls Benjamin Netanyahu A "Racist," Says He Doesn't Represent "True Will Of Israeli People"
Former Rep. Beto O'Rourke (D-Texas) blasted Israeli Prime Minister Benjamin Netanyahu on Sunday, labeling him as a "racist" who is opposed to peace in his country's region.
O'Rourke, a 2020 Democratic presidential candidate, addressed the U.S.-Israeli relationship before a crowd in Iowa.
"That relationship, if it is to be successful, must transcend partisanship in the United States, and it must be able to transcend a prime minister who is racist, as he warns about Arabs coming to the polls, who wants to defy any prospect for peace as he threatens to annex the West Bank, and who has sided with a far-right, racist party in order to maintain his hold on power," said O'Rourke.
The Texas Democrat added he does not believe Netanyahu "represents the true will of the Israeli people" or the "best interests" of Israel's relationship with the U.S. O'Rourke also said he supports a two-state solution to broker peace between Israelis and Palestinians.
Subscribe!
A week of political news in your in-box.
We find the news you need to know, so you don't have to.
SLIDESHOW: TOP DEMOCRATS RUNNING FOR PRESIDENT IN 2020
"We must be able to transcend his current leadership to make sure that that alliance is strong, that we continue to push for and settle for nothing less than a two-state solution, because that is the best opportunity for peace for the people of Israel and the people of Palestine," O'Rourke said. "It is the best opportunity for the full human rights of everyone who is living in that region."
President Donald Trump recently hosted Netanyahu — who is up for re-election this year — at the White House. Anti-Semitism has been a highly debated topic in recent months following critical comments from freshman Muslim Rep. Ilhan Omar (D-Minn.) about an Israeli organization called the American Israel Public Affairs Committee (AIPAC) and its influence on American politics. Omar — whom Trump mocked after a supporter of his threatened to kill the congresswoman — ultimately apologized and the Democratic-controlled House voted to condemn anti-Semitism.
Several Democrats who are running for president in 2020 have rebuffed AIPAC, which strongly supports Netanyahu. The Israeli leader has grown increasingly more right-wing in his views.
Last month, Trump signed a proclamation recognizing Golan Heights as part of Israel, a move that overturned longstanding U.S. policy concerning the region.
Read more about:
Leave a comment
You must be logged in to post a comment.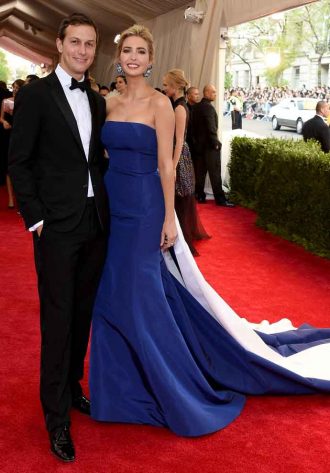 Click here for the 10 Most Powerful Political Couples Slideshow
Listen to the uInterview Podcast!
Get the most-revealing celebrity conversations with the uInterview podcast!