Fox News "Strongly" Condemns Jeanine Pirro After Host Blasts Muslim Rep. Ilhan Omar As "Sharia-Compliant"
Fox News on Sunday evening issued a rare condemnation of one of their own, host Jeanine Pirro, following her disparaging remarks about Muslim Rep. Ilhan Omar (D-Minn.).
"We strongly condemn Jeanine Pirro's comments about Rep. Ilhan Omar," Fox News said in a statement. "They do not reflect those of the network and we have addressed the matter with her directly."
Pirro — whose show Justice with Judge Jeanine is reportedly among President Donald Trump's favorite programs — received backlash for calling Omar's hijab "antithetical" to the U.S. Constitution. The Fox News host also accused the 37-year-old Muslim congresswoman, who is Somali-American, of being "Sharia-compliant" and practicing "Sharia-adherence behavior."
"Is her adherence to this Islamic doctrine indicative of her adherence to Sharia law, which is antithetical to the U.S. Constitution?" Pirro asked.
Subscribe!
A week of political news in your in-box.
We find the news you need to know, so you don't have to.
SLIDESHOW: TOP DEMOCRATS RUNNING FOR PRESIDENT IN 2020
The former New York judge and prosecutor then clarified her remarks in a statement Sunday night in which she also invited Omar to come on her show.
"I've seen a lot of comments about my opening statement from Saturday night's show and I did not call Rep. Omar un-American," said Pirro. "My intention was to ask a question and start a debate, but of course because one is Muslim does not mean you don't support the Constitution. I invite Rep. Omar to come on my show any time to discuss all of the important issues facing America today."
A Muslim producer for Brett Baier, one of Pirro's Fox News colleagues, blasted her on Twitter for her Islamophobic comments.
"@JudgeJeanine can you stop spreading this false narrative that somehow Muslims hate America or women who wear a hijab aren't American enough?" associate producer Hufsa Kamal tweeted. "You have Muslims working at the same network you do, including myself. K thx."
Fox News previously rebuked Pirro in November after she and Sean Hannity both appeared alongside Trump at a rally just days before the midterm elections.
Omar recently drew criticism of her own from both Democrats and Republicans for statements about an Israeli group that were perceived as anti-Semitic. The Democratic-controlled House voted last week to condemn anti-Semitism, although some lawmakers like Sen. Bernie Sanders (I-Vt.) — who is Jewish — and Rep. Tulsi Gabbard (D-Hawaii) defended Omar.
Read more about:
Leave a comment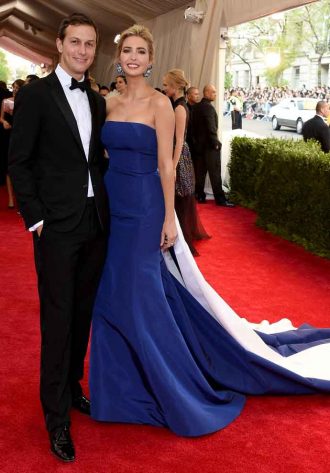 Click here for the 10 Most Powerful Political Couples Slideshow
Listen to the uInterview Podcast!
Get the most-revealing celebrity conversations with the uInterview podcast!