Donald Trump Reportedly Told Donors "The Democrats Hate Jewish People"
A new report reveals President Donald Trump told a group of donors that Democrats "hate Jewish people" in a recent speech.
Jonathan Swan of Axios reported that Trump made the remark during a speech to Republican National Committee donors at his Mar-a-Lago resort in Palm Beach, Florida.
The comment comes after Democratic lawmakers rebuked of one of their own, Muslim-American Sen. Ilhan Omar (D-Minn.) for statements about an Israeli group that were viewed as anti-Semitic. Omar had said she was concerned about the U.S.'s longstanding support for Israel and said she did not feel obligated to back the country even though it has long been considered an ally. After Trump blasted Omar in a tweet, the freshman congresswoman fired back at the president by accusing him of discriminating "his whole life" against people of other races, religions and creeds.
Trump's son-in-law and senior adviser Jared Kushner — whose top secret security clearance has been a topic of much discussion in recent weeks — is Jewish.
Subscribe!
A week of political news in your in-box.
We find the news you need to know, so you don't have to.
SLIDESHOW: TOP DEMOCRATS RUNNING FOR PRESIDENT IN 2020
In his speech to RND donors, Trump reportedly also boasted of his accomplishments over the last two years with respect to the U.S.'s relationship with Israel, including his administration's decision to move the American embassy from Tel Aviv to Jerusalem. The Axios report also said Trump claimed that if he ran for prime minister of Israel, he believed he would poll at around 98 percent.
#AmericaFirst – @marc_lotter: Democrats couldn't condemn anti-semitism. That's because the radical, left-wing socialists have taken over. Nancy Pelosi is having a hard time keeping Dems together. It is a shameful display of how our democracy works. #MAGA #TrumpTrain #Dobbs pic.twitter.com/fsWtPjSNK8

— Lou Dobbs (@LouDobbs) March 8, 2019
Reporter: "Does (President Trump) really believe Democrats hate Jews?"

White House press secretary Sarah Sanders: "I think that's a question you ought to ask the Democrats" https://t.co/lo65aBe5JA pic.twitter.com/pDOIX5qvg2

— CNN (@CNN) March 11, 2019
Trump's comments were also seen as hypocritical by liberals who pointed to the president calling neo-Nazis and other white supremacists "very fine people" after the infamous alt-right rally in Charlottesville, Virginia in August 2017. The white nationalists chanted "Jews will not replace us" at the rally, among other things.
Trump called people who chanted "Jews will not replace us" very fine people.

Fuck him and his "Democrats hate Jews" bullshit.

I'm a Jewish Democrat and the only thing I've ever hated in my life is Donald Trump.

— andy lassner (@andylassner) March 10, 2019
Read more about:
Leave a comment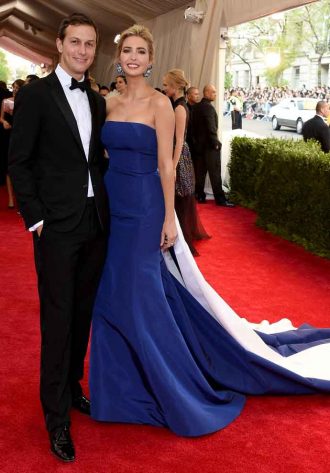 Click here for the 10 Most Powerful Political Couples Slideshow
Listen to the uInterview Podcast!
Get the most-revealing celebrity conversations with the uInterview podcast!