Elizabeth Warren: Trump "May Not Even Be A Free Person" By 2020
Sen. Elizabeth Warren (D-Mass.) has never been one to hold back on criticizing President Donald Trump, and this weekend the 2020 presidential contender spoke out again by saying he may be in prison by before the next election.
"Every day there is a racist tweet, a hateful tweet — something really dark and ugly," the Massachusetts Democrat said during a campaign event in Cedar Rapids, Iowa. "What are we as candidates, as activists, as the press going to do about it? We're going to chase after those every day?"
Warren continued: "Here's what bothers me. By the time we get to 2020, Donald Trump may not even be president. In fact, he may not even be a free person."
Trump and his associates have been investigated by special counsel Robert Mueller for more than 18 months due to their alleged collusion with Russia's government during the 2016 election.
Subscribe!
A week of political news in your in-box.
We find the news you need to know, so you don't have to.
Warren formally announced her 2020 presidential campaign during an event in Lawrence, Massachusetts on Saturday. During that event, the progressive lawmaker blasted Trump for being a member of a "rigged system that props up the rich and the powerful and kicks dirt on everyone else."
SLIDESHOW: DONALD TRUMP'S 30 CRAZIEST TWEETS
Warren has been engulfed in a scandal of her own in recent weeks. She apologized to the Cherokee Nation earlier this month after claiming to have Native American ancestry. Warren even identified herself as "American Indian" on her Texas state bar registration card in 1986. Trump has often mocked Warren by calling her "Pocahontas," one of several nicknames that he has for his opponents and that has been called racist.
Trump commented on Warren entering the 2020 presidential race with the following tweet:
Today Elizabeth Warren, sometimes referred to by me as Pocahontas, joined the race for President. Will she run as our first Native American presidential candidate, or has she decided that after 32 years, this is not playing so well anymore? See you on the campaign TRAIL, Liz!

— Donald J. Trump (@realDonaldTrump) February 9, 2019
Many Democrats questioned whether Trump's capitalization of the word "Trail" in this tweet was a reference to the Trail of Tears and said that if this is the case, it was an offensive comment.
Warren is reportedly set to soon visit California and Georgia, among other states, as part of her 2020 campaign.
Read more about:
Leave a comment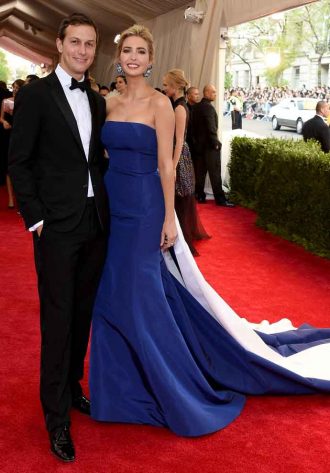 Click here for the 10 Most Powerful Political Couples Slideshow
Listen to the uInterview Podcast!
Get the most-revealing celebrity conversations with the uInterview podcast!