Who Is Li Yang, Ex-Owner Of Florida Spa Tied To Robert Kraft Who Watched Super Bowl With Trump?
A Florida woman who formerly owned the spa where New England Patriots owner Robert Kraft allegedly solicited sexual activity watched this year's Super Bowl with President Donald Trump, it was reported this weekend.
The Miami Herald reported that Trump and the 45-year-old woman, Li Yang, watched the NFL Championship game between the Patriots and the Los Angeles Rams just days before Kraft was charged with soliciting prostitution, among other counts.
Yang shared a selfie online of herself with Trump at his West Palm Beach golf club on February 3.
"We love our president," read the photo's caption.
Subscribe!
A week of political news in your in-box.
We find the news you need to know, so you don't have to.
Kraft denied the charges against him, which were brought days after his team won its sixth Super Bowl ring since he became the franchise's owner. The Patriots executive is accused of having solicited sexual acts at the Orchids of Asia Day Spa in South Florida. Although Yang no longer owns the establishment, her family reportedly still has stakes in multiple spas around the state.
SLIDESHOW: TOP DEMOCRATS RUNNING FOR PRESIDENT IN 2020
It's officially time to start a thread with all the Madam Li Yang, founder of Orchids Strip Mall Day Spa and now charged felon pics. Let's start with POTUS, who signed this one. (Tag me if you have one I should add to the album.)

I'm calling this one "Sharpie Matches the Dress!" pic.twitter.com/KT1rfCGPoL

— Amee Vanderpool (@girlsreallyrule) March 8, 2019
Yang's Facebook profile reveals the Chinese-born woman attended a Lunar New Year party at the White House, among other events organized by the Trump Administration's Asian-American and Pacific Islander Initiative.
According to CNN, Yang — who also goes by the name "Cindy" — has also taken photos with several Trump administration members, including Kellyanne Conway, Trump's 2020 re-election campaign manager Brad Parscale, and the president's sons, Donald Trump Jr. and Eric Trump. 
Yang's other social media pages show she has visited Trump's Mar-a-Lago resort in Palm Beach several times in recent years.
Aside from the previously mentioned Trump administration members, Yang has also been seen attending the 2016 Republican National Convention and the 2017 presidential inauguration. She took photos with notable conservatives like Sens. Marco Rubio (R-Fla.) and Rick Scott (R-Fla.), former vice presidential candidate Sarah Palin and Fox News host Jeanine Pirro. 
It would be a shame if someone tagged @JudgeJeanine in this photo and kept retweeting it. #Liyang pic.twitter.com/Upm5SpovgJ

— The Savage Coconut (@Savage_Coconut) March 9, 2019
Sarah Palin can see Russia from her porch and a human trafficker from this picture with Li Yang. pic.twitter.com/7vdaqntdFs

— Travis Akers (@travisakers) March 8, 2019
Read more about:
Leave a comment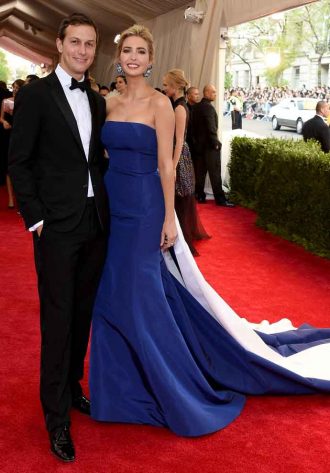 Click here for the 10 Most Powerful Political Couples Slideshow
Listen to the uInterview Podcast!
Get the most-revealing celebrity conversations with the uInterview podcast!