Trump Gives Stephen Miller Greater Role For Immigration Policy Amid Homeland Security Purge
Senior White House adviser Stephen Miller is reportedly gaining further influence following changes at the Department of Homeland Security, including the departure of Secretary Kirstjen Nielsen. 
Miller, 33, has already played a large role in the implementation of many of the hard-line immigration policies introduced by President Donald Trump's administration, like the Muslim ban and the family separation controversy at the U.S.-Mexico border. Trump has repeatedly sought to significantly limit the flow of migrants into the United States, even by blocking asylum for refugees and saying last week that the country is too "full." However, demographers and economists have noted that this statement is false, as many states have seen aging populations and declining birthrates — and thus reduced workforces — in recent months.
Miller, a former Senate staffer to then-Sen. Jeff Sessions (R-Ala.), has been lauded by several immigration hardliners. Nevertheless, others have voiced concern about Miller's lack of major accomplishments as a congressional staffer.
Tuesday's intro: Stephen Miller's warnings from 2017 pic.twitter.com/7gcNrNp0qp

Subscribe!

Stay informed on the latest political news.

— Morning Joe (@Morning_Joe) April 9, 2019
Trump also ousted the Secret Service director this week and pulled his nominee to lead Immigrations and Customs Enforcement (ICE), Ronald Vitiello. There is now speculation he could push to remove top officials from U.S. Citizenship and Immigration Services.
SLIDESHOW: TOP DEMOCRATS RUNNING FOR PRESIDENT IN 2020
White House Deputy Press Secretary Hogan Gidley blasted the press on Monday for continually asking questions about the various personnel changes at Homeland Security, calling their queries "pointless."
Many people have blasted Miller as a hypocrite for his views on immigration partly because of his family's history. Last year, it was revealed Miller's immigrant great-grandfather failed his U.S. citizenship test in 1932. Some have even gone as far as to call Miller a "white nationalist" despite his Jewish heritage.
Ilhan Omar: Stephen Miller is a white nationalist.

Overwhelming majority of U.S. Jews including members of Miller's own family: Yes it's true, he is a disgrace.

All of the white nationalists: how dare this Muslim contend that a Jew could be one of us. https://t.co/FCP1dUZQdJ

— Brian Beutler (@brianbeutler) April 9, 2019
Read more about: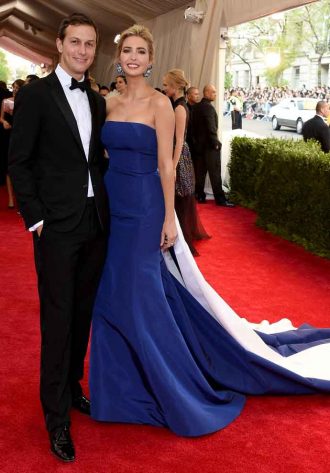 Click here for the 10 Most Powerful Political Couples Slideshow
Listen to the uInterview Podcast!
Get the most-revealing celebrity conversations with the uInterview podcast!