Trump Denies E. Jean Carroll's Rape Accusation Despite Her 1987 Photo With Him: "I've Never Met This Person In My Life"
President Donald Trump on Friday denied a rape accusation from advice columnist E. Jean Carroll, claiming he had never encountered her before.
"I've never met this person in my life," Trump said of Carroll in a statement. He also cited last year's sexual harassment and assault allegations against Supreme Court Justice Brett Kavanaugh in his response to Caroll's claims.
However, an old photo quickly surfaced on Twitter to contradict the president's statement. The photo is from around 1987 and shows Trump and his ex-wife Ivana Trump greeting Carroll and her then-husband, television news anchor John Johnson.
President Trump: "I've never met this person in my life."

Photo caption: "Carroll, Donald and Ivana Trump, and Carrolls's then-husband… at an NBC party around 1987." pic.twitter.com/pjVswgedba

— Scott Bixby (@scottbix) June 21, 2019
Carroll, 75, alleges in her forthcoming book that Trump sexually assaulted her in a Bergdorf Goodman dressing room in the mid-1990s. She claimed Trump asked her for help to purchase lingerie for an unnamed woman. He then allegedly forced himself on her, kissed her in the dressing room and started pulling off her clothes before pinning her to the wall, groping her and penetrating her. The description of the alleged incident was published Friday on New York magazine's website.
Carroll is known for her "Ask E. Jean" column, which began appearing regularly in Elle magazine in the 1990s. Bergdorf Goodman has not released an official statement on the alleged incident involving her and Trump.
SLIDESHOW: TOP DEMOCRATS RUNNING FOR PRESIDENT IN 2020
"She is trying to sell a new book — that should indicate her motivation. It should be sold in the fiction section," Trump also said in his statement, before comparing Carroll's claims to those made by Julie Swetnick against Kavanaugh last fall.
E. Jean Carroll says she wishes she would have asked @realDonaldTrump for his TAX RETURNS when she allegedly met him at the Bergdorf Goodman department store in the mid 90's .

HUH?!? pic.twitter.com/Dt4DrduT6y

— Stephanie Hamill (@STEPHMHAMILL) June 22, 2019
"There is zero evidence" he said. "No pictures? No surveillance? No video? No reports? No sales attendants around? I would like to thank Bergdorf Goodman for confirming they have no video footage of any such incident, because it never happened."
Jean is the 16th woman to accuse Trump of sexual misconduct.
Read more about: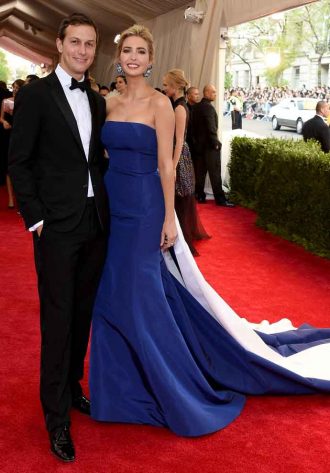 Click here for the 10 Most Powerful Political Couples Slideshow
Listen to the uInterview Podcast!
Get the most-revealing celebrity conversations with the uInterview podcast!