Trump Attacks FBI Director Christopher Wray, Citing "Spying" During 2016 Campaign
President Donald Trump this week added a new name to his list of targets: FBI Director Christopher Wray. 
Trump went after Wray, whom he appointed in August 2017 to replace James Comey, for not supporting allegations that the FBI engaged in "spying" on Trump's 2016 campaign. Attorney General William Barr pushed this theory in his Senate testimony last month.
In a series of tweets on Sunday, Trump quoted right-wing activist Tom Fitton in blasting the bureau's "leadership" and in claiming that it attempted to "overthrow the President through an illegal coup."
SLIDESHOW: TOP DEMOCRATS RUNNING FOR PRESIDENT IN 2020
Subscribe!
A week of political news in your in-box.
We find the news you need to know, so you don't have to.
"Even Director James Clapper admits that the FBI actions against the Trump Presidential Campaign do in fact meet the definition of spying, perhaps FBI Director Christopher Wray will be the next to do so." @LouDobbs

— Donald J. Trump (@realDonaldTrump) May 13, 2019
"Just another abuse of power in a long series of abuses of power by the Democrats that began during the Obama Administration, continued through the Mueller FBI operation, & now the baton has been passed to Jerry Nadler to continue to abuse power to harass President Trump..

— Donald J. Trump (@realDonaldTrump) May 13, 2019
….and the Democrat National Committee-The Democrat Party apparatus-has been caught using donor Dollars to Collude with Russian Intelligence to attack a domestic political opponent (me). The FBI has no leadership. The Director is protecting the same gang…..that tried to….

— Donald J. Trump (@realDonaldTrump) May 13, 2019
….overthrow the President through an illegal coup." (Recommended by previous DOJ) @TomFitton @JudicialWatch

— Donald J. Trump (@realDonaldTrump) May 13, 2019
Trump's attack on Wray follows that on former White House Counsel Don McGahn. This week, it was reported that McGahn refused to follow a White House order to say Trump never committed obstruction of justice over the course of special counsel Robert Mueller's investigation into Russian interference in the 2016 election.
JUST IN: FBI Director Christopher Wray distances himself from attorney general's use of "spying" on Trump campaign https://t.co/fCiASZqfih pic.twitter.com/69JX8Sc8HU

— CNN Politics (@CNNPolitics) May 7, 2019
"It's very typical of the president. He is paranoid, a narcissist and [shows] antisocial behavior," said Rep. Jackie Speier (D-California), a member of the House Intelligence Committee. "He gets his thrills out of attacking people."
Speier also accused Trump of constantly surrounding himself with "sycophants" who do his bidding at nearly every turn.
Read more about:
Leave a comment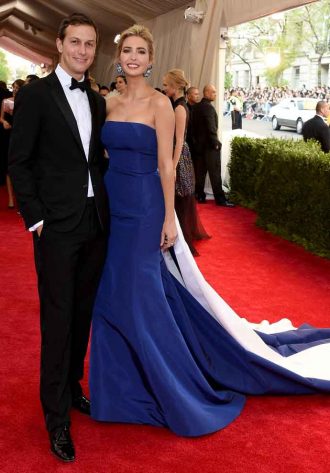 Click here for the 10 Most Powerful Political Couples Slideshow
Listen to the uInterview Podcast!
Get the most-revealing celebrity conversations with the uInterview podcast!