China Retaliates Against Trump Tariffs With $60 Billion In New Duties
China announced on Monday that it will raise tariffs on $60 billion in U.S. goods at the start of next month, which represents a 5 to 25 percent tariff. This is an addition to the duties that are already in place, marking the latest tactic in the trade conflict between the two economic giants.
The announcement comes right after President Donald Trump warned China against retaliating on the hiked tariffs that the U.S. put on $200 billion of Chinese goods last week. Trump publicly warned Beijing to not retaliate, stating it "will only get worse" for China if it takes action.
I say openly to President Xi & all of my many friends in China that China will be hurt very badly if you don't make a deal because companies will be forced to leave China for other countries. Too expensive to buy in China. You had a great deal, almost completed, & you backed out!

— Donald J. Trump (@realDonaldTrump) May 13, 2019

Subscribe!

A week of political news in your in-box.
We find the news you need to know, so you don't have to.
Beijing has said that it will take "necessary countermeasures" in response to the new tariffs, but had not made a move until Monday's announcement.
The increased tension between the two countries was a result of Beijing reneging on a number of commitments it had agreed to, U.S. officials said. There have been many high-level negotiations put in place to break the impasse, but no concrete resolutions have been achieved.
Trump is unwilling to back down from the conflict because he believes the duties that are placed on Chinese goods means that China will pay more money directly to the U.S. Treasury.
In an interview on Sunday, White House economic adviser Larry Kudlow disagreed with this view and acknowledged that American businesses and consumers will suffer from the increase in tariffs.
This assessment is in line with what most mainstream economists believe would happen in the case of increased tariffs. These tariffs can be considered taxes that are paid by importers, namely U.S. companies, that bring in products from China. These costs are usually passed on to consumers in the form of higher prices, which may drive down demand for Chinese imports.
SLIDESHOW: TOP DEMOCRATS RUNNING FOR PRESIDENT IN 2020
Trump suggested a solution to the tariff situation: U.S. companies could simply avoid them by purchasing their goods from countries that are not subject to the U.S. tariffs.
….completely avoided if you by from a non-Tariffed Country, or you buy the product inside the USA (the best idea). That's Zero Tariffs. Many Tariffed companies will be leaving China for Vietnam and other such countries in Asia. That's why China wants to make a deal so badly!…

— Donald J. Trump (@realDonaldTrump) May 13, 2019
But rerouting supply chains to avoid purchasing goods from China is costly and time consuming, which could also force companies to raise prices to consumers. Furthermore, companies that import from China might do so because the goods are unavailable elsewhere or would be far more expensive otherwise.
Read more about:
Leave a comment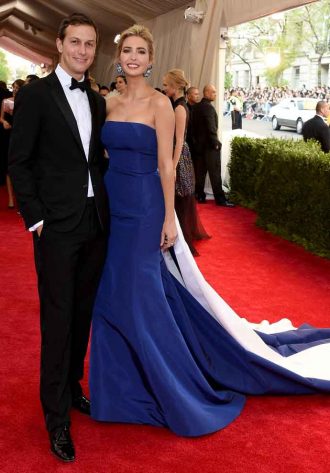 Click here for the 10 Most Powerful Political Couples Slideshow
Listen to the uInterview Podcast!
Get the most-revealing celebrity conversations with the uInterview podcast!