Trump Says He Turned To God For Support Throughout Mueller Probe
President Donald Trump claimed last Thursday that his faith in God helped him survive special counsel Robert Mueller's investigation into Russian meddling in the 2016 election.
"People say, 'How do you get through that whole stuff? How do you go through those witch hunts and everything else?" Trump stated at the White House during a National Day of Prayer service.
"We just do it, right?" Trump added "And we think about God."
This remark preceded Trump's attempt via Twitter to stop Mueller from testifying before Congress. Meanwhile, Democrats and Republicans have opposed each other regarding the fallout from Mueller's report. The former are pushing to hold Attorney General William Barr in contempt for refusing to testify before the House Judiciary Committee.
Subscribe!
A week of political news in your in-box.
We find the news you need to know, so you don't have to.
Democrats have repeatedly blasted Barr for what they view as his efforts to spin Mueller's 448-page report in Trump's favor. The special counsel himself also reprimanded the attorney general for misrepresenting his findings in the Russia probe, which found no evidence of collusion between Trump's 2016 campaign team and the Kremlin.
#MarkoftheBeast
Only a self-idolatrous infidel lies from his pulpit on his "Nationalistic Day of Prayer"
And those who collude by applauding his apostasy and laud tacit approval to gain favor, will be held to account.

Trumps gospel:
God was made in MY image
Thank Me very much pic.twitter.com/gYYEbk0Kpu

— Ben Decieved (@tsaeB_fo_kraM) May 5, 2019
SLIDESHOW: TOP DEMOCRATS RUNNING FOR PRESIDENT IN 2020
Trump's most recent comment appears to be a way for him to further appeal to evangelical Christian voters, who have been among his most loyal supporters thus far. Since taking office, Trump and his administration have moved to implement policies backed by evangelicals like limiting access to abortion and setting up a Justice Department-led task force to ensure religious freedom.
Last week, Trump also denounced "evil and hate-filled attacks" on religious communities across the globe in recent months and invited victims of a shooting at a San Diego-area synagogue to talk at the prayer service.
Read more about:
Leave a comment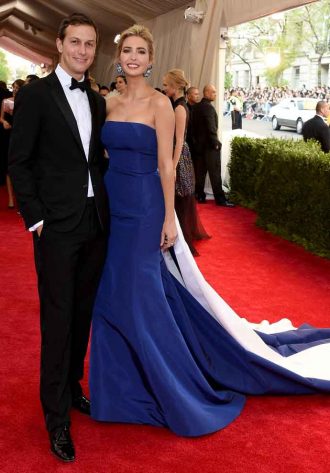 Click here for the 10 Most Powerful Political Couples Slideshow
Listen to the uInterview Podcast!
Get the most-revealing celebrity conversations with the uInterview podcast!