Transportation Secretary Elaine Chao Used Government Employees To Plan Travel For Family Doing Business In China
Transportation Secretary Elaine Chao holds strong business ties with several Chinese companies, according to a bombshell report from Sunday.
According to The New York Times, Chao — who is the wife of Sen. Mitch McConnell (R-Kentucky), the Senate majority leader — has connections to her family's shipping company, Foremost Group. Chao allegedly used government officials to help plan travel for her family against government regulations.
The newspaper's probe revealed that although Chao does not officially have a stake in the business, her father has given her and McConnell millions in political donations and other gifts. Chao's father previously ran Foremost Group.
Among the other Chinese businesses Chao's family has links to — and in some cases even executive board positions — include state-owned company China State Shipbuilding, where her sister Angela has a board seat.
Subscribe!
A week of political news in your in-box.
We find the news you need to know, so you don't have to.
SLIDESHOW: TOP DEMOCRATS RUNNING FOR PRESIDENT IN 2020
Chao's father also allegedly has a tight-knit relationship with the Chinese Communist Party's general secretary, Jiang Zemin. 
The Times also obtained emails from October 2017 that showed the Transportation Department helped plan Chao's first official visit to China since joining President Donald Trump's administration.
THREAD: DOT officials sent hundreds of emails and spent months planning a trip to China for ELAINE CHAO. They even designed a logo for the luggage Elaine Chao took a particular interest in picking out gifts for officials she would meet in China pic.twitter.com/8krTkNvX4H

— Eric Lipton (@EricLiptonNYT) June 3, 2019
Chao, who was born in Taiwan but came to the U.S. as a child, defended herself and her family after the Times report was published.
"My family are patriotic Americans who have led purpose-driven lives and contributed much to this country," Chao said in a statement. "They embody the American dream, and my parents inspired all their daughters to give back to this country we love."
Chao's ties to China come amid the country's heated trade dispute with the United States, fueled largely by Trump's decision to impose hefty tariffs on Chinese imports, a move China retaliated with by imposing similar tariffs. As the sitting U.S. Transportation secretary, Chao in charge with overseeing the American shipping industry. Chao previously worked as Labor secretary under George W. Bush. 
Read more about:
Leave a comment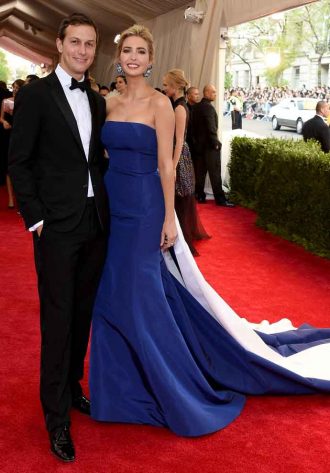 Click here for the 10 Most Powerful Political Couples Slideshow
Listen to the uInterview Podcast!
Get the most-revealing celebrity conversations with the uInterview podcast!