Sarah Huckabee Sanders Says Democrats Aren't "Smart Enough" To Understand Trump's Taxes, Democrats Respond
White House Press Secretary Sarah Huckabee Sanders gave a new reason on Sunday for why President Donald Trump should not publicly release his tax returns: House Democrats aren't "smart enough" to review and fully comprehend them.
"This is a dangerous, dangerous road and frankly, Chris, I don't think Congress, particularly not this group of congressmen and women, are smart enough to look through the thousands of pages that I would assume that President Trump's taxes will be," Sanders told Fox News Sunday host Chris Wallace.
She continued: "My guess is most of them don't do their own taxes, and I certainly don't trust them to look through the decades of success that the President has and determine anything."
Sanders also called Congressional Democrats' efforts to obtain Trump's taxes "a disgusting overreach."
Subscribe!
A week of political news in your in-box.
We find the news you need to know, so you don't have to.
Earlier this month, the House Ways and Means Committee — led by its chairman, Rep. Richard Neal (D-Mass.) — requested the president's taxes from the Internal Revenue Service, citing a rarely-used 1924 provision of the tax code. Neal reiterated his request on Saturday.
SLIDESHOW: TOP DEMOCRATS RUNNING FOR PRESIDENT IN 2020
"This is all about political partisanship," Sanders added of Democrats' attempts to secure Trump's taxes.
Rep. Adam Schiff (D-Calif.), the chairman of the House Intelligence Committee, was one of several prominent Democrats to respond to Sanders' remarks. Schiff has faced calls from many Republicans to resign from Congress amid his role in the investigation into Trump's 2016 campaign associates alleged ties to Russia. Reps. Ted Lieu (D-Calif.) and Katie Porter (D-Calif.) — who is trained in tax law — also responded to Sanders' comments.
There's an old saying.

When the law is on your side, pound the law.

When the facts are on your side, pound the facts.

If neither the facts or law are on your side, pound the table.

And then there's whatever this is. https://t.co/INukgddrg7

— Adam Schiff (@RepAdamSchiff) April 14, 2019
Dear @PressSec Sarah Sanders: How about sending us the tax returns of @POTUS as required by law. If we are not smart enough to understand them, we will send them back. Pinky promise.

I am smart enough to understand @realDonaldTrump is gutting preexisting conditions coverage. https://t.co/gDZu1Dubli

— Ted Lieu (@tedlieu) April 14, 2019
Try me! https://t.co/jX9smC3sHD

— Amy Klobuchar (@amyklobuchar) April 15, 2019
"I'll take that bet any time." @RepKatiePorter responds to White House press secretary Sarah Sanders' claim that Congress isn't "smart enough" to look at Trump's taxes, adding: "I'm trained in tax law, I'm a legal professor. I'm ready to go to take a look" https://t.co/y5vLJZR3DN pic.twitter.com/2rw4hLdkE9

— CNN (@CNN) April 15, 2019
Read more about:
Leave a comment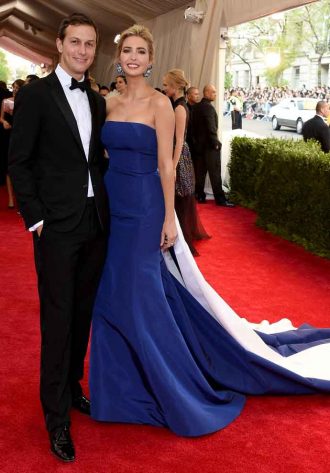 Click here for the 10 Most Powerful Political Couples Slideshow
Listen to the uInterview Podcast!
Get the most-revealing celebrity conversations with the uInterview podcast!