Kamala Harris Formally Announces 2020 Presidential Run In Oakland
Sen. Kamala Harris (D-Calif.) on Sunday formally launched her 2020 presidential campaign in her native Oakland, California.
The 54-year-old Democrat, who is African-American, officially announced her 2020 bid last week on Martin Luther King, Jr. Day. Harris stressed on Sunday that the nation is at an "inflection point."
Kamala Harris News
"We are here because the American Dream and our American democracy are under attack and on the line like never before," said first-term senator Harris before thousands of supporters at the Frank Ogawa Plaza in Oakland. "And we are here at this moment in time because we must answer a fundamental question: Who are we? Who are we as Americans? So, let's answer that question to the world and each other right here and right now. America, we are better than this."
Harris, the author of the new book Truths We Hold: An American Journey, recently went on tour to promote this work. She boasts a long career as a former attorney general and prosecutor in California, which suggests her 2020 presidential platform will likely focus substantially on criminal justice reform, among other issues.
Subscribe!
Stay informed on the latest political news.
SLIDESHOW: DONALD TRUMP'S 30 CRAZIEST TWEETS
Harris also quoted former Attorney General Robert Kennedy, who in 1968 revealed he would challenge then-President Lyndon B. Johnson.
Kennedy said at the time that "at stake is not simply the leadership of our party and even our country, it is our right to moral leadership of this planet."
If elected, Harris would not only be the first African-American woman to become president: she would also make history as the first person of Asian descent to become commander-in-chief. Harris is the daughter of Indian and Jamaican immigrants.
Harris also answered questions during a press conference at Howard University, a historically black college in Washington, D.C. that the senator attended for her undergraduate studies.
Harris has criticized President Donald Trump multiple times, and said in an interview on The Late Show with Stephen Colbert earlier this month that the stalemate between the president and Democratic lawmakers on border security — which led to a record-breaking 35-day government shutdown that ended on Friday — would "not end with a wall." Trump demanded $5.7 billion in funds for the border barrier.
Read more about: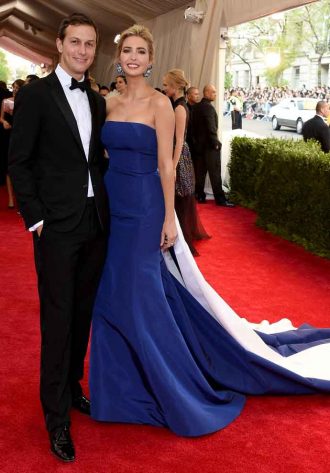 Click here for the 10 Most Powerful Political Couples Slideshow
Listen to the uInterview Podcast!
Get the most-revealing celebrity conversations with the uInterview podcast!