Donald Trump Makes New False Claims About Voter Fraud – Here's A Fact Check
President Donald Trump has routinely made false claims about voter fraud since taking office, so much so that it undoubtedly merits a careful fact check.
Most recently, Trump was asked about alleged ballot fraud surrounding a 2018 midterm election in North Carolina between Republican Mark Harris and Democratic challenger Dan McCready. Last week, state investigators accused a political operative who worked for Harris's campaign of being the mastermind behind a "scheme" involving illegal absentee ballots. North Carolina's elections board has since ordered a new House election in this case after Harris admitted the ballot-tampering claims were accurate.
Trump commented on this controversy by saying he condemns election fraud "of any kind, whether it's Democrat or Republican." He also claimed there were a "million fraudulent votes" cast in California. Trump made a similar unsubstantiated claim after losing the popular vote in the 2016 election: he said millions of immigrants in California had illicitly voted against him and for Hillary Clinton.
SLIDESHOW: TOP DEMOCRATS RUNNING FOR PRESIDENT IN 2020
Subscribe!
Stay informed on the latest political news.
Here's a fact check of the most recent allegations Trump made about voter fraud last week.
"I condemn any election fraud," Trump said Friday while meeting with Chinese Vice Premier Liu He. "And when I look at what's happened in California with the votes, when I look at what happened — as you know, there was just a case where they found a million fraudulent votes…. When I look at what's happened in Texas. When I look at that catastrophe that took place in Florida where the Republican candidates kept getting less and less and less and less. And fortunately, Rick Scott and Ron [DeSantis] ended up winning their [Senate and gubernatorial] election, but it was disgraceful what happened there…. I condemn any voter fraud of any kind, whether it's Democrat or Republican…. And that includes North Carolina."
Facts: There is no evidence that 1 million votes were cast illegally in California, nor is there any proof of widespread voter fraud in Florida or Texas either. California has a large vote-by-mail vote so results take weeks to be reported. Recounts were held in Florida after the governor's and Senate races were deemed too close to call, and both GOP candidates ultimately won.
Regarding Texas, Trump last month pointed to a report from the secretary of state's office that said up to 95,000 non-U.S. citizens may potentially be on the state's voter rolls and that more than half of them may have voted at least one since 1996. However, Texas officials have since admitted that this figure was inaccurate: at least 20,000 names have now been removed.
Read more about: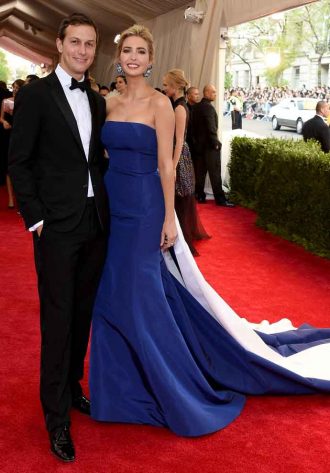 Click here for the 10 Most Powerful Political Couples Slideshow
Listen to the uInterview Podcast!
Get the most-revealing celebrity conversations with the uInterview podcast!