Trump Blasts Spike Lee On Twitter For "Racist Hit" On Him At Oscars
President Donald Trump on Monday morning lambasted Spike Lee on Twitter after the screenwriter and film director encouraged everyone to vote him out in 2020 during his Oscars acceptance speech Sunday night.
Trump tweeted that it would "Be nice if Spike Lee could read his notes, or better yet not have to use notes at all, when doing his racist hit on your President."
The president also claimed he "has done more for African Americans than almost any other Pres!" and specifically cited his record on criminal justice reform, unemployment and tax cuts.
Be nice if Spike Lee could read his notes, or better yet not have to use notes at all, when doing his racist hit on your President, who has done more for African Americans (Criminal Justice Reform, Lowest Unemployment numbers in History, Tax Cuts,etc.) than almost any other Pres!

Subscribe!

A week of political news in your in-box.
We find the news you need to know, so you don't have to.

— Donald J. Trump (@realDonaldTrump) February 25, 2019
While accepting the Best Adapted Screenplay Academy Award for BlacKkKlansman alongside Charlie Wachtel, David Rabinowitz and Kevin Willmott on Sunday, 61-year-old Lee — who jumped up to hug Samuel L. Jackson, a frequent collaborator of his who handed him the trophy — excoriated Trump in his speech, referencing 400 years of slavery and the history of oppression of African-Americans at the hands of racist white people.
After also briefly stating his personal humble socioeconomic beginnings and his eventual graduation from New York University's film school, Lee turned political again.
"The 2020 presidential election is around the corner," the director said. "Let's all mobilize, let's all be on the right side of history. Make the moral choice between love versus hate. Let's do the right thing!"  he added, referencing his famous 1989 film as the audience stood up, applauded and cheered.
SLIDESHOW: TOP DEMOCRATS RUNNING FOR PRESIDENT IN 2020
Lee, who was dressed all in purple (hat and everything) at the Oscars, also donned gold rings with the words "Love" and "Hate" inscribed on them, yet another tribute to Do The Right Thing. 
BlacKkKlansman is based on the true story of Ron Stallworth, who in the early 1970s became the first black officer hired to the Colorado Springs, Colorado Police Department. Stallworth — who is played by Denzel Washington's son John David Washington in the film — joined forces with Jewish officer Philip Zimmerman to infiltrate the Ku Klux Klan. Adam Driver played Zimmerman and was nominated for Best Supporting Actor for his performance. Oscar winner Jordan Peele served as a producer on BlacKkKlansman, which was symbolically released exactly one year after the Unite the Right rally of Neo-Nazis and other white supremacists in Charlottesville, Virginia.
Lee has severely criticized Trump several times before, and even calls him "Agent Orange."
"Since [Trump] has gotten into the White House it is not even a dog whistle, it's a bullhorn," Lee said of the president's racist behavior on CNN last summer.
Lee's Oscar win on Sunday marked his first ever.
Read more about:
Leave a comment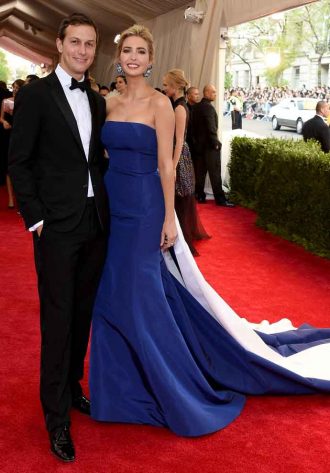 Click here for the 10 Most Powerful Political Couples Slideshow
Listen to the uInterview Podcast!
Get the most-revealing celebrity conversations with the uInterview podcast!