Ann Coulter: "The Only National Emergency Is That Our President Is An Idiot," Trump Responds
Ann Coulter has never been one to shy away from controversial statements, and last week she blasted President Donald Trump yet again for his handling of securing more funds for the U.S.-Mexico border wall.
"Forget the fact that he's digging his own grave," the 57-year-old conservative commentator said Friday in an interview with Los Angeles radio station KABC. "The only national emergency is that our president is an idiot.
"This is the worst open borders the country has ever had under the president who ran against open borders," Coulter added.
The goal is to get Trump's stupidest voters to say "HE'S FIGHTING!" No he's not. If he signs this bill, it's over. https://t.co/6DQSkqxV8h

Subscribe!

A week of political news in your in-box.
We find the news you need to know, so you don't have to.

— Ann Coulter (@AnnCoulter) February 15, 2019
Trump declared a national emergency on Friday to bypass Congress and obtain funding for roughly 200 miles of the southern border wall, which is now reportedly set to be made of steel rather than concrete. Lawmakers had offered Trump $1.3 billion for the barrier, as opposed to the $5.7 billion he had originally demanded.
Trump has repeatedly railed against illegal immigration and made untrue claims about migrants from Latin America bringing drugs and other crime across the U.S.-Mexico border.
SLIDESHOW: TOP DEMOCRATS RUNNING FOR PRESIDENT IN 2020
Coulter — the author of In Trump We Trust: E Pluribus Awesome, who also frequently posts columns on her website — and fellow conservative firebrand Rush Limbaugh recently called Trump a "wimp" for not being more aggressive in his dispute with lawmakers, especially Democrats, over the wall. The standoff led to a record-breaking, 35-day government shutdown, and a second such closing was avoided on Friday after legislators reached a bipartisan compromise to keep the government funded through September. Sen. Mitch McConnell (R-Ky.), the Senate majority leader, reportedly warned Trump that proclaiming a national emergency to get the border wall built would likely be challenged by the courts.
"Thank God he's released me from any responsibility for what he's been doing," Coulter also told KABC of Trump on Friday. "That was the biggest favor anyone could do for me today. The country is over, by the way, that's why," she added before saying Trump was "fooling the rubes with a national emergency."
Trump responded to Coulter's latest jab at him by saying "I hardly know her" and adding he doesn't "have time" to speak to her.
"I like her, but she's off the reservation," he added of Coulter.
Pres. Trump on Ann Coulter, right-wing commentator who has been critical of the president's actions on immigration: "I don't know her. I hardly know her…I just don't have the time to speak to her."

"I like her, but she's off the reservation." https://t.co/xb0BBhlx7T pic.twitter.com/PAm4vU9DVE

— ABC News (@ABC) February 15, 2019
Read more about:
Leave a comment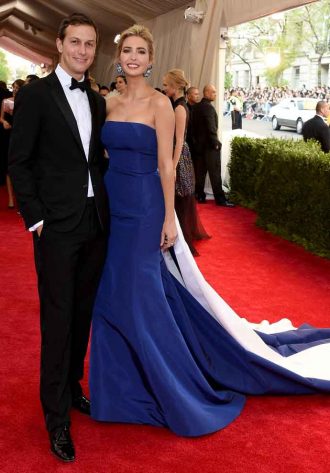 Click here for the 10 Most Powerful Political Couples Slideshow
Listen to the uInterview Podcast!
Get the most-revealing celebrity conversations with the uInterview podcast!