Trump Claims Japanese Prime Minister Shinzo Abe Nominated Him For Nobel Peace Prize; Abe Won't Confirm Claim
On Friday, President Donald Trump claimed Japanese Prime Minister Shinzo Abe has nominated him for a Nobel Peace Prize.
Trump said he had been nominated for the award for starting a dialogue with North Korea and its leader Kim Jong-Un. Although the pair initially held a tense relationship that included trading insults, Trump and Kim have appeared to repeatedly praise each other since their infamous one-on-one denuclearization summit in Singapore last June. The two leaders are set to meet again in Hanoi, Vietnam at the end of February.
Trump alleged Abe "gave me the most beautiful copy of a letter that he sent to the people who give out a thing called the Nobel Prize. … He said, 'I have nominated you, respectfully, on behalf of Japan. I am asking them to give you the Nobel Peace Prize.'"
Nominations for the 2019 award were reportedly due for submission to the Norwegian Nobel Committee before Feb. 1. Abe, who visited Trump's Mar-a-Lago resort in Florida in 2017, did not officially confirm whether or not he actually nominated the president for the award.
Subscribe!
A week of political news in your in-box.
We find the news you need to know, so you don't have to.
Did Japan's PM Shinzo Abe nominate Trump for the Nobel Peace Prize?

More on @business: https://t.co/r3XGFpnAec pic.twitter.com/WG9MvTDsns

— TicToc by Bloomberg (@tictoc) February 18, 2019
SLIDESHOW: TOP DEMOCRATS RUNNING FOR PRESIDENT IN 2020
Last year, South Korean President Moon Jae-in endorsed Trump for the Nobel Peace Prize, saying he deserved credit for launching denuclearization talks with recalcitrant North Korea.
According to USA Today, two Norwegian lawmakers nominated Trump for the coveted award in June, and some U.S. politicians have also voiced support for Trump receiving the 2019 Nobel Peace Prize nomination.
This nomination is sure to face scrutiny. In February 2018, The New York Times reported that two previous Nobel Peace Prize nominations for Trump were determined to have been forged.
Trump has questioned whether his predecessor, Barack Obama, deserved his 2009 Nobel Peace Prize. Trump also claimed Obama was on the verge of launching a "big war" with North Korea, an assertion Obama's former aides have refuted.
Actor Mark Hamill was among several people to tweet about the claims surrounding Abe nominating Trump for the Nobel:
"Obama told me he was planning a VERY BIG WAR ON NORTH KOREA!- Japan nominated me for a NOBEL PEACE PRIZE!- I have my own SECRET STATS!- I DON'T KNOW ANN COULTER & haven't spoken to her over a year!" It would be funnier if he didn't have the nuclear codes. https://t.co/5j78lP91oT

— Mark Hamill (@HamillHimself) February 17, 2019
Read more about:
Leave a comment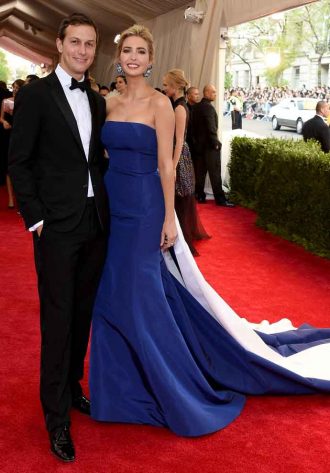 Click here for the 10 Most Powerful Political Couples Slideshow
Listen to the uInterview Podcast!
Get the most-revealing celebrity conversations with the uInterview podcast!