White House Refuses To Hand Over Documents On Jared Kushner's Security Clearance, Elijah Cummings Responds
Rep. Elijah Cummings (D-Md.), the House Oversight Committee chairman, released a statement on Tuesday to respond to the White House's refusal to provide documents pertaining to security clearance matters.
The statement appeared to specifically allude to the security clearance given to President Donald Trump's son-in-law and senior adviser Jared Kushner. Cummings blasted the current system for granting security clearances as "broken" and issued a call for change.
Full Chairman @RepCummings statement on WH refusal to cooperate on providing docs and witnesses related to security clearance abuses: pic.twitter.com/i9YkfDSSBD

— Alex Moe (@AlexNBCNews) March 5, 2019

Subscribe!

Stay informed on the latest political news.
"The White House appears to be arguing that Congress has no authority to examine decisions by the Executive Branch that impact our national security ― even when the president's former national security advisor has pleaded guilty to lying about his contacts with foreign government officials," Cummings, wrote in the statement. "The White House security clearance system is broken, and it needs both congressional oversight and legislative reform."
SLIDESHOW: TOP DEMOCRATS RUNNING FOR PRESIDENT IN 2020
Last week, it was revealed Trump ordered White House officials to grant Kushner, 38, a top-secret security clearance last year. Among those whom the president allegedly directed to do this was his former Chief of Staff, John Kelly. 
The CIA and other entities were reportedly quick to voice concern over Trump's decision to give Kushner a high-level security clearance. FBI background checks are typically required before such clearances can be granted. House Democrats have even said that they are prepared to issue subpoenas if necessary over Kushner's security clearance.
Shortly after taking office, Trump tasked Kushner with a long list of responsibilities despite the president's son-in-law having no previous experience in public office. Kushner was assigned to help establish peace in the Middle East, among other things. Kushner and his family, who own a real estate business, are known for holding long-standing close relationships with prominent Saudis.
We don't know how Jared Kushner managed to get any kind of security clearance.

We do know he has had private communications with Saudi Arabia, even though he may be a target of foreign manipulation. pic.twitter.com/SOiaoagNdt

— Citizens for Ethics (@CREWcrew) March 5, 2019
Read more about: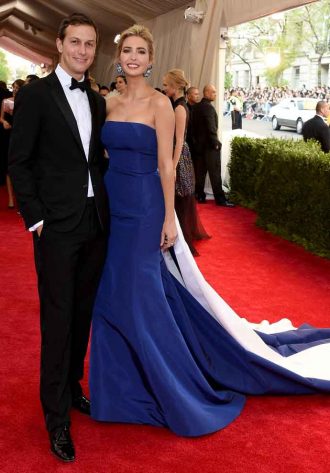 Click here for the 10 Most Powerful Political Couples Slideshow
Listen to the uInterview Podcast!
Get the most-revealing celebrity conversations with the uInterview podcast!