Chris Christie Says Charles Kushner Committed "One Of The Most Loathsome, Disgusting Crimes" He Prosecuted
Jared Kushner's father, Charles Kushner, was prosecuted by Chris Christie in 2005, back when Christie served as a U.S. attorney. Now, opening up about his time working for President Donald Trump, Christie is slamming Charles Kushner and accusing Trump's son-in-law of conspiring to remove him from Trump's transition team.
Christie published a new book, Let Me Finish: Trump, the Kushners, Bannon, New Jersey, and the Power of In-Your-Face Politics, and is currently on tour promoting it. Speaking with Firing Line host Margaret Hoover, Christie described the elder Kushner's crime as "one of the most loathsome, disgusting crimes" he processed during his legal career, adding, "And I was U.S. attorney in New Jersey, Margaret, so we had some loathsome, disgusting crime going on there."
"Would you separate your experience, if your father had been put in jail, from the prosecutor who put him in jail?" Hoover asked the former New Jersey governor. In response, Christie said, "If my father is guilty, I would. Mr. Kushner pled guilty. He admitted the crimes."
SLIDESHOW: DONALD TRUMP'S 30 CRAZIEST TWEETS
Subscribe!
A week of political news in your in-box.
We find the news you need to know, so you don't have to.
Back in 2003, the elder Kushner schemed to hire a prostitute to seduce his brother-in-law, William Schulder, into having sex. The occurred at the Bridgewater motel in New Jersey, where a hidden camera recored it. Schulder was formerly one of Kushner's employees, but had reneged and became a witness for federal prosecutors. Kushner was faced with a plea deal and plead guilty to tax evasion and witness tampering, earning him 14 months in prison.
Christie continued his denunciation of the Kushners, rhetorically asking, "And so what am I supposed to do as a prosecutor? I mean If a guy hires a prostitute to seduce his brother-in-law, and videotapes it, and then sends the videotape to his sister to attempt to intimidate her from testifying before a grand jury, do I really need any more justification than that?"
And according to Christie, Kushner is the member of Trump's inner circle with the most influence over the president. Christie believes the younger Kushner is to blame for firing him from Trump's transition team.
"It's one of the most loathsome, disgusting crimes that I prosecuted…and I was the U.S. attorney in New Jersey."@ChrisChristie talks about prosecuting Charles Kushner for tax evasion, illegal campaign contributions and witness tampering. #FiringLineShowPBS pic.twitter.com/rBNn0j0bCY

— Firing Line with Margaret Hoover (@FiringLineShow) January 29, 2019
In an NPR interview, the former Trump campaign spokesman said, "There is simply no one more influential in the White House on the president than Jared Kushner. He's not the only person who he listens to, but I don't think anyone has more influence than Jared has."
Read more about:
Leave a comment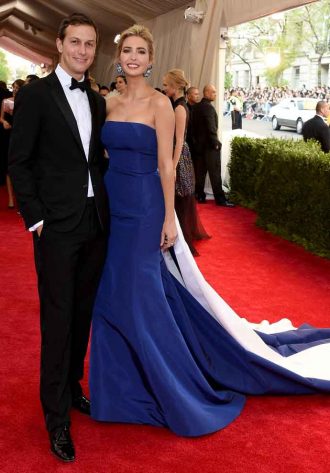 Click here for the 10 Most Powerful Political Couples Slideshow
Listen to the uInterview Podcast!
Get the most-revealing celebrity conversations with the uInterview podcast!