Nancy Pelosi Says "I Don't Trust Barr, I Trust Mueller" Ahead Of Full Report Release
Rep. Nancy Pelosi (D-Calif.), the House Speaker, said Wednesday she doubts Attorney General William Barr and trusts Special Counsel Robert Mueller more as lawmakers continue pushing for the release of Mueller's full Russia investigation report.
"He is not the attorney general of [President] Donald Trump," Pelosi stated in a new interview. "He is the attorney general of the United States. I don't trust Barr, I trust Mueller."
In a tweet, Pelosi also said she believes Barr has "gone off the rails."
This week, Barr suggested without evidence in his testimony that the FBI spied on Trump's 2016 campaign. Several other Democrats have voiced concern with the Justice Department leader's summary of Mueller's key findings, with some even saying Barr may have misinterpreted the special counsel's conclusions. Sen. Chuck Schumer (D-N.Y.) also said he was not content with Barr's four-page summary of Mueller's report. Barr exonerated Trump of obstruction of justice in his summary, although Mueller has not yet revealed his conclusion on this front.
Subscribe!
Stay informed on the latest political news.
Pelosi added that she is still pushing for the Democratic-led House to address other issues besides oversight of Trump and his associates, like health care and infrastructure investments.
SLIDESHOW: TOP DEMOCRATS RUNNING FOR PRESIDENT IN 2020
"We are not just focusing on him," Pelosi added. "We're focused on what we said we would do."
Mueller made clear in his report that although he did not find sufficient evidence to charge Trump with a crime, he also did not exonerate the president. Trump and his allies claimed victory nonetheless.
Pelosi also recently blasted Trump for his two picks for Federal Reserve board seats: conservative commentator Stephen Moore and former 2012 presidential candidate Herman Cain.
Nancy Pelosi called Trump's two Fed picks "the worst, ill-suited appointments that the president could come up with."

"That is a dangerous thing for an economy, when a central bank of the country has political influence." https://t.co/cG6PdYyyHl

— Kyle Griffin (@kylegriffin1) April 11, 2019
Read more about: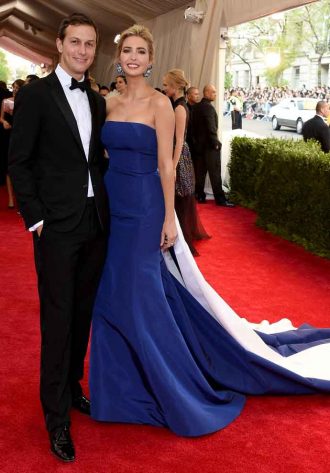 Click here for the 10 Most Powerful Political Couples Slideshow
Listen to the uInterview Podcast!
Get the most-revealing celebrity conversations with the uInterview podcast!