IRS Says Stephen Moore, Trump's Federal Reserve Pick, Owes More Than $75,000 In Taxes
Stephen Moore, President Donald Trump's choice for a Federal Reserve seat, has already drawn concerns for a number of reasons, one of which is the fact that he owes more than $75,000 in taxes.
The Internal Revenue Service said Moore had an unpaid balance of $75,328.80 in 2014, as Montgomery County, Maryland records show.
Moore is a conservative tax policy specialist who was a member of Trump's 2016 presidential campaign. He reportedly disputed the IRS's claim about his taxes.
"The IRS owes us money; we don't owe them money — we had a $50,000 overpayment on our taxes," he said, adding, "this has been like the audit from hell, we can't get them to close this."
Subscribe!
A week of political news in your in-box.
We find the news you need to know, so you don't have to.
Moore's dispute with the IRS is reportedly derived from a child support and alimony payment he made to his former wife. Alimony is tax deductible for divorces finalized before this year. Moore admitted he mistakenly requested a deduction for child support, which is not tax deductible.
SLIDESHOW: TOP DEMOCRATS RUNNING FOR PRESIDENT IN 2020
Moore also claimed that the IRS thus struck out his entire alimony deduction and added the sum to his total tax payments. He added the service owes him and his new wife approximately $30,000.
Moore reportedly believes the Fed should reduce interest rates by half a percentage point, a stance that is opposed by many other policymakers.
Several news outlets have noted how controversial Moore is because of his history of making inaccurate statements and predictions about nearly every major economic issue.
According to HuffPost, Moore was so ill-informed about macroeconomic policy that one editor at the Kansas City Star refused to run "literally anything he ever wrote."
"Moore is constantly, laughably wrong," HuffPost reported last week. The newspaper cited examples of Moore's previous incorrect predictions like his claim that Bill Clinton's slight income tax hike for wealthy Americans in 1993 would "torpedo" the economy, when in fact Clinton oversaw a thriving economy with a surplus. Moore also said in 2009 that the Fed's low interest rates would lead to hyperinflation, but this never actually occurred either.
I really hope this video of Stephen Moore getting absolutely destroyed by @crampell doesn't get retweeted and seen by the rest of the internet, because it would be very embarrassing for him. pic.twitter.com/gnI3F5hheT

— Aléx Young (@AlexYoung) March 22, 2019
Just last year, Moore praised Trump for his decision to "shoot for" zero tariffs, although the president actually imposed massive tariffs on goods from countries like China — with whom the U.S. has been locked in a heated trade war — and Canada.
Read more about:
Leave a comment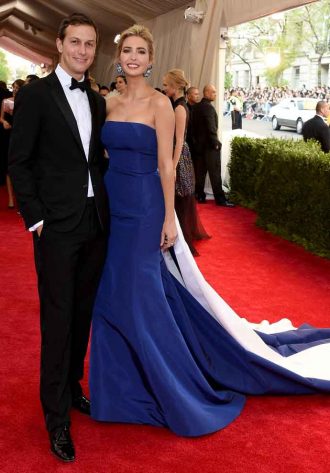 Click here for the 10 Most Powerful Political Couples Slideshow
Listen to the uInterview Podcast!
Get the most-revealing celebrity conversations with the uInterview podcast!