Donald Trump Slams Fed On Twitter, Stock Markets Plunge Amid Confusing Signals From White House
Stock markets plummeted early Monday after a tumultuous morning that included President Donald Trump angrily criticizing the Federal Reserve on Twitter and his administration sending confusing signals regarding the economy.
The Dow tumbled more than 650 points just one day before Christmas, while the S&P 500 dropped 2.7% and the Nasdaq fell 2.2%.
"The only problem our economy has is the Fed," Trump tweeted Monday morning. "They don't have a feel for the Market, they don't understand necessary Trade Wars or Strong Dollars or even Democrat Shutdowns over Borders," he added before making a golf analogy.
The only problem our economy has is the Fed. They don't have a feel for the Market, they don't understand necessary Trade Wars or Strong Dollars or even Democrat Shutdowns over Borders. The Fed is like a powerful golfer who can't score because he has no touch – he can't putt!

Subscribe!

A week of political news in your in-box.
We find the news you need to know, so you don't have to.

— Donald J. Trump (@realDonaldTrump) December 24, 2018

According to CNN, Trump allegedly blames Treasury Secretary Steve Mnuchin for suggesting Jerome Powell be named to lead the Fed, and investors are now worried that the president may try to fire the Fed chairman, a former member of the Federal Reserve Board of Governors and former Treasury Department official under George H. W. Bush.
50 CELEBRITIES WHO DIED IN 2018 – TRIBUTE SLIDESHOW
"Honestly, I can't think of anything more apocalyptic for the markets right now than if the President were to really try and push for Powell's removal," says CNN Global economic analyst @RanaForoohar https://t.co/pXDahVFQYJ pic.twitter.com/gKs6rDYDeO

— CNN Newsroom (@CNNnewsroom) December 24, 2018
Early Monday, Mnuchin reportedly said in a statement that he had checked the health of the U.S.'s biggest financial institutions, and stocks quickly plunged. CEOs of top bank told Mnuchin their companies have "ample liquidity" to lend to businesses and consumers.
"Markets continue to function properly," said Mnuchin.
"The President has tied his own fortunes to the fortunes of the stock market," explains @ChristineRomans.

"December on track for the worst month since the Great Depression… And he wants the Treasury Secretary to do something" https://t.co/VyOO7bN92T pic.twitter.com/g2xQVma3Co

— New Day (@NewDay) December 24, 2018
Among the major banks whose shares dropped on Monday were Goldman Sachs (GS), JPMorgan Chase (JPM), Wells Fargo (WFC), Citi (C) and Bank of America (BAC).
SLIDESHOW: DONALD TRUMP'S 30 CRAZIEST TWEETS
Stocks are on pace for their worst December since the Great Depression, which began with the stock market crash in 1929. On Friday, the Dow capped its worst week since 2008, when the the financial recession started.
Further complicating things is a partial government shutdown that began after Congress failed to reach a deal by Friday's midnight deadline to provide $5 billion in funding for the southern border wall Trump has repeatedly been pushing for since his 2016 campaign as a measure to stop illegal immigration. Democrats refused to fund the wall, slamming the president's insistence on this as the best way to ensure border security. The bill lawmakers attempted to pass included an effort to keep money flowing to fund the federal government through Feb. 8. The legislation passed the House but not the Senate.
The Senate has adjourned for the Christmas holiday and will resume working on Thursday, Dec. 27, which means the government shutdown could continue until then or even potentially into January. Trump met with several hard-line Republican lawmakers over the weekend, and announced Saturday on Twitter that he would cancel his plans to spend Christmas at his Mar-a-Lago resort in Florida. Instead, he will stay in Washington, D.C. as long as the shutdown persists.
The stock market has also been very volatile in recent weeks due to Trump's growing trade war with China and insistence on implementing tariffs. Over the summer, the Asian country's stock market became bearish because of the trade dispute.
Some economic experts have stated that given current market trends, another recession could be coming perhaps as soon as 2020.
Fmr. WH Dir. Legislative Affairs @marctshort says "it's the men and women of border security who have been advocating for this wall," and suggests that they be the ones to present the options. https://t.co/rIf9LFONMp pic.twitter.com/5sxkrGMiLt

— New Day (@NewDay) December 24, 2018
Read more about:
Leave a comment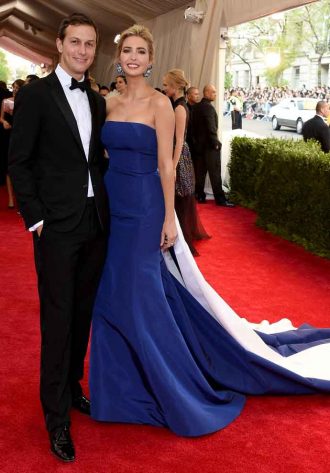 Click here for the 10 Most Powerful Political Couples Slideshow
Listen to the uInterview Podcast!
Get the most-revealing celebrity conversations with the uInterview podcast!