Nancy Pelosi Guarantees Democrats Will Keep Control Of House In 2020
House Speaker Nancy Pelosi (D-Calif.) guaranteed in a new interview that Democrats will retain control of Congress's lower chamber in the 2020 elections.
Speaking to The Washington Post, Pelosi vowed to lock in the key races by November, one year before the 2020 elections.
"I'm going to have our races won by this November," said Pelosi.
The House Speaker also issued a warning to Republicans in swing states, saying "some of you are vulnerable."
"It's going to cost you millions of dollars, to win or lose. And if you win — say you win — you're in the minority," she added.
SLIDESHOW: TOP DEMOCRATS RUNNING FOR PRESIDENT IN 2020
.@SpeakerPelosi is the 2019 #ProfileInCourage Award honoree! She put the national interest above her party's interest to expand access to health care and, against a wave of political attacks, led the effort to retake the majority & elect the most diverse Congress in U.S. history. pic.twitter.com/ogWhDNJsDy

— JFK Library (@JFKLibrary) April 7, 2019
Democrats earned a net gain of 40 House seats in the 2018 midterm elections. Republicans continue to hold the majority in the Senate. President Donald Trump recently said he remained very confident the GOP would win back the House and retain control of the Senate, saying his party would be "the party of healthcare" in a series of tweets about introducing a new medical plan to replace Obamacare.
The Trump Admin thinks it's a good idea to tear affordable health coverage away from American families. They couldn't be more wrong. House Democrats' bill introduced this week does the opposite — taking real action to lower Americans' health costs and #ProtectOurCare.

— Nancy Pelosi (@SpeakerPelosi) March 28, 2019
"We're going to take the House back. We are. I feel totally confident," Trump also said at the National Republican Congressional Committee's annual spring dinner.
Pelosi also appeared to take a shot at Rep. Alexandria Ocasio-Cortez (D-N.Y.) in remarks to USA Today. 
"While there are people who have a large number of Twitter followers, what's important is that we have large numbers of votes on the floor of the House," Pelosi said.
Ocasio-Cortez, a 29-year-old freshman congresswoman and a self-described Democratic socialist, has 4 million followers on Twitter.
Read more about: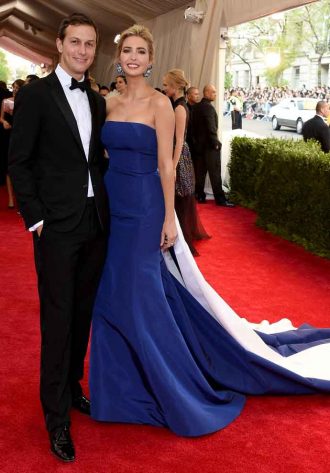 Click here for the 10 Most Powerful Political Couples Slideshow
Listen to the uInterview Podcast!
Get the most-revealing celebrity conversations with the uInterview podcast!