Nancy Pelosi Says Country Is Facing A "Constitutional Crisis" Amid Feud With Trump White House [VIDEO]
House Speaker Nancy Pelosi (D-California) stated Thursday she believes the United States is embroiled in a "constitutional crisis," echoing House Judiciary Committee Chairman Jerrold Nadler's (D-New York) sentiment as the feud between congressional Democrats and the White House escalates.
In recent weeks, House Democrats have issued several subpoenas to members of President Donald Trump's administration over issues ranging from Robert Mueller's Russia probe report to Trump's taxes. Some officials, like Attorney General William Barr, are now facing the consequences of their refusal to comply with lawmakers. Barr was held in contempt following a vote from the House Judiciary panel last week.
"I agree with Chairman Nadler. The administration has decided they're not going to honor their oath of office," Pelosi said at a news conference Thursday. "We have investigations that'll give us facts and the truth. This is about the American people and their right to know."
Pelosi added she hoped the full House would soon hold a vote to hold Barr in contempt. Democrats have been suggesting in recent days they may start using fines to punish officials who don't comply with subpoenas.
Subscribe!
Stay informed on the latest political news.
SLIDESHOW: TOP DEMOCRATS RUNNING FOR PRESIDENT IN 2020
Trump and his Administration's decision to ignore the oath of office has triggered a constitutional crisis. It's appalling that the Administration is an obstacle to protecting our elections & getting the truth for the American people. #FreeMueller

— Nancy Pelosi (@SpeakerPelosi) May 9, 2019
The Trump Admin is fighting to replace many Americans' health care with junk insurance policies that are allowed to discriminate against people with pre-existing conditions. Democrats believe in strengthening protections, not destroying them. #ProtectOurCare pic.twitter.com/kbDRITuhfK

— Nancy Pelosi (@SpeakerPelosi) May 8, 2019
Meanwhile, Republican lawmakers have blasted their Democratic colleagues for what they view as a series of politically motivated investigations against the president.
"There's this outrage industrial complex that spans from Capitol press conferences to cable news," Senate Majority Leader Mitch McConnell (R-Kentucky) said Tuesday. "They're grieving that the national crisis they spent two years wishing for didn't materialize. But for the rest of the country, this is good news."
Read more about: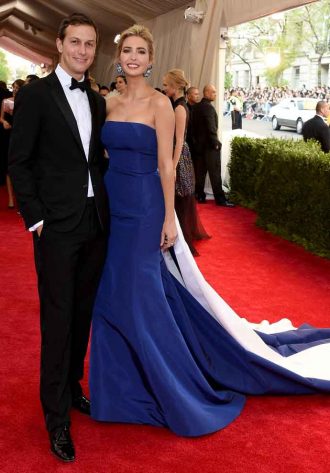 Click here for the 10 Most Powerful Political Couples Slideshow
Listen to the uInterview Podcast!
Get the most-revealing celebrity conversations with the uInterview podcast!