Ilhan Omar Says She Is Getting More Death Threats After Trump's 9/11 Tweet
Rep. Ilhan Omar (D-Minn.) said Sunday she has received numerous death threats since President Donald Trump shared a video on Twitter that painted her as being dismissive of the 9/11 terror attacks in New York City from 2001.
"This is endangering lives," Somali-American Omar, who is Muslim, said in a statement responding to Trump's action. "It has to stop."
We are all Americans. This is endangering lives. It has to stop. pic.twitter.com/gwB2kDUIRp

— Rep. Ilhan Omar (@Ilhan) April 15, 2019

Subscribe!

A week of political news in your in-box.
We find the news you need to know, so you don't have to.
House Speaker Nancy Pelosi (D-Calif.) revealed she and other top Democratic lawmakers have pushed for security measures to protect Omar in the wake of Trump's hateful tweet.
Trump also blasted Omar in a separate post on Monday morning, accusing the freshman Congresswoman of "controlling" Pelosi.
Before Nancy, who has lost all control of Congress and is getting nothing done, decides to defend her leader, Rep. Omar, she should look at the anti-Semitic, anti-Israel and ungrateful U.S. HATE statements Omar has made. She is out of control, except for her control of Nancy!

— Donald J. Trump (@realDonaldTrump) April 15, 2019
SLIDESHOW: TOP DEMOCRATS RUNNING FOR PRESIDENT IN 2020
Trump's graphic video showed jarring moments from the 9/11 attacks and included the caption "WE WILL NEVER FORGET!" The New York Post, a famously pro-Trump publication, also featured a photo of the Twin Towers in flames with a quote from Omar saying "some people did something" at the top and the words "Here's your something" in larger font at the center of the image.
Pelosi blasted Trump for using 9/11 as a propaganda tool to spread right-wing extremism.
The memory of 9/11 is sacred ground, and any discussion of it must be done with reverence. The President shouldn't use the painful images of 9/11 for a political attack.

— Nancy Pelosi (@SpeakerPelosi) April 13, 2019
Omar, 37, has been accused of anti-Semitism for several weeks following remarks in which she criticized Israeli lobbyist organization AIPAC for what she viewed as its heavy influence in American politics. Despite this, several Democrats like Sen. Bernie Sanders (I-Vt.), who is Jewish, have defended Omar.
Ilhan Omar is a leader with strength and courage. She won't back down to Trump's racism and hate, and neither will we. The disgusting and dangerous attacks against her must end.

— Bernie Sanders (@BernieSanders) April 13, 2019

White House Press Secretary Sarah Huckabee Sanders told reporters Sunday that Trump bore no "ill will" against Omar but rather was simply trying to call out the freshman Democratic lawmaker for what he considered anti-Semitic rhetoric.
Trump also mocked Omar at a convention earlier this month after one of his supporters threatened to kill her. Fox News hosts like Jeanine Pirro have also gotten into trouble for making Islamophobic comments about the first-term lawmaker.
Rep. Jerry Nadler (D-N.Y.), who represents Manhattan's financial district that was targeted on 9/11, said he had no problem with Omar's characterization of the attacks. Nadler said it was other unrelated comments from Omar that he found concerning.
Read more about:
Leave a comment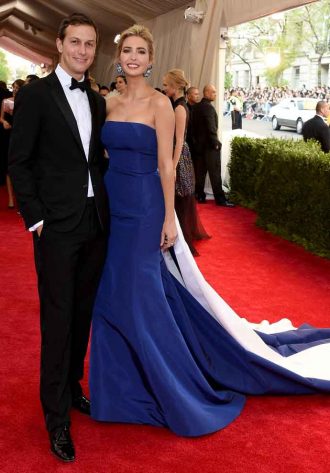 Click here for the 10 Most Powerful Political Couples Slideshow
Listen to the uInterview Podcast!
Get the most-revealing celebrity conversations with the uInterview podcast!