Minnesota Rep. Ilhan Omar Says She "Unequivocally Apologizes" After Backlash Over Anti-Semitic Comments
Rep. Ilhan Omar (D–Minn) apologized on Monday after facing sharp criticism for comments against an Israeli organization deemed to be anti-Semitic.
"Anti-Semitism is real and I am grateful for Jewish allies and colleagues who are educating me on the painful history of anti-Semitic tropes," the 37-year-old first-term congresswoman said in a statement. "My intention is never to offend my constituents or Jewish Americans as a whole. We have to always be willing to step back and think through criticism, just as I expect people to hear me when others attack me for my identity. This is why I unequivocally apologize."
Somali-born Omar, one of two Muslim women who were elected to Congress in November, continued: "At the same time, I reaffirm the problematic role of lobbyists in our politics, whether it be AIPAC, the NRA or the fossil fuel industry. It's gone on too long and we must be willing to address it."
Omar recently said she believes the lobbying group known as the American Israel Public Affairs Committee (AIPAC) holds excessive power in Washington, D.C.
Listening and learning, but standing strong 💪🏽 pic.twitter.com/7TSroSf8h1

— Ilhan Omar (@IlhanMN) February 11, 2019
It's all about the Benjamins baby 🎶 https://t.co/KatcXJnZLV

— Ilhan Omar (@IlhanMN) February 10, 2019
Lawmakers from both political parties condemned Omar's initial tweets and remarks on Israel, and Rep. Nancy Pelosi (D-Calif.), the House Speaker, demanded she apologize immediately.
"Legitimate criticism of Israel's policies is protected by the values of free speech and democratic debate that the United States and Israel share," a statement from Pelosi's office read. "But Congresswoman Omar's use of anti-Semitic tropes and prejudicial accusations about Israel's supporters is deeply offensive."
SLIDESHOW: DONALD TRUMP'S 30 CRAZIEST TWEETS
Batya Ungar-Sargon, an opinion editor for the Forward, was one of several people to call out Omar for her anti-Israel comments on Twitter.
AIPAC! https://t.co/UdzaFUEfrh

— Ilhan Omar (@IlhanMN) February 11, 2019
Omar has also voiced support for the Boycott, Divestment and Sanctions movement, a non-violent activist effort that seeks to apply economic and political pressure on Israel regarding its treatment of Palestinians and its occupation of the West Bank.
Congresswoman Omar's statements are deeply hurtful to Jews, including myself. pic.twitter.com/u3f2JHESFA

— Max Rose (@MaxRose4NY) February 11, 2019
Omar's comments follow controversial ones made by Rep. Rashida Tlaib (D-Mich.), the other freshman Democratic congresswoman. Tlaib has also been denounced by lawmakers on both sides of the aisle for her anti-Israel rhetoric but also drew rebukes for a comment she made about impeaching President Donald Trump. 
"We're going to impeach the motherf—er," Tlaib said at an event.
Read more about: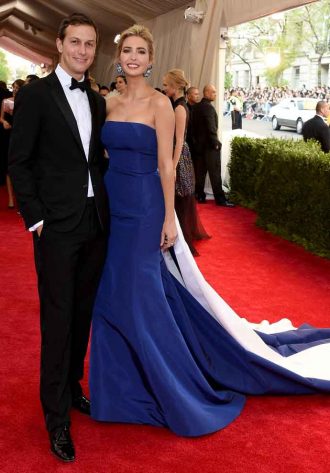 Click here for the 10 Most Powerful Political Couples Slideshow
Listen to the uInterview Podcast!
Get the most-revealing celebrity conversations with the uInterview podcast!