Nancy Pelosi Says Democrats Won't Be Intimidated By Trump After State Of The Union Threat
President Donald Trump may have threatened Democratic lawmakers during Tuesday night's State of the Union speech for investigating him, but Rep. Nancy Pelosi (D-Calif.) says she and her party won't be intimidated by this.
The House Speaker blasted Trump for calling Democrats' probes into him and his affairs "ridiculous, partisan investigations."
"That was a threat. Presidents should not bring threats to the floor of the House," Pelosi told reporters at the Capitol on Wednesday.
On Wednesday, Pelosi's fellow California Democrat Rep. Adam Schiff (D-Calif.), the House Intelligence Committee chairman, said the committee will expand its inquiry into Trump and his financial dealings beyond their ties to Russia.
Subscribe!
A week of political news in your in-box.
We find the news you need to know, so you don't have to.
"I can understand why the idea of meaningful oversight terrifies the President. Several of his close associates are going to jail, others await trial, and criminal investigations continue," Schiff wrote on Twitter in response to Trump criticizing Democrats for their probes. "We're going to do our job and won't be distracted or intimidated by threats or attacks."
SLIDESHOW: DONALD TRUMP'S 30 CRAZIEST TWEETS
Pelosi added that the majority House Democrats "would be delinquent in our duty" if they didn't exercise oversight — which she differentiated from traditional investigations — over the executive branch.
The House will not surrender its constitutional responsibility to perform oversight. pic.twitter.com/Btw3ME0tBq

— Nancy Pelosi (@SpeakerPelosi) February 7, 2019
During the State of the Union Address, Trump said: "We must reject the politics of revenge, resistance and retribution and embrace the boundless potential of cooperation, compromise and the common good."
For context, here's where Pelosi delivered that clap #SOTU pic.twitter.com/vxnCdtcEeI

— Brian Koerber (@bkurbs) February 6, 2019
In response, Pelosi stood up, applauded and extended her arms toward Trump. However, the House Speaker insisted she didn't do this sarcastically.
On a separate note, Pelosi also told reporters she believes Democrats and the president can find "common ground" on lowering prescription drug prices, something Trump addressed during the State of the Union.
Read more about:
Leave a comment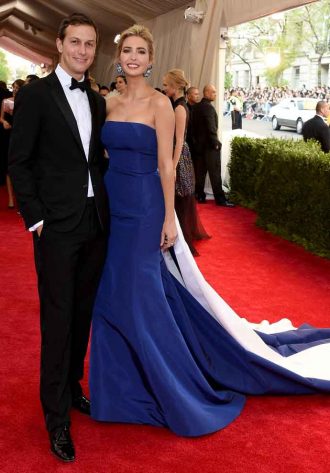 Click here for the 10 Most Powerful Political Couples Slideshow
Listen to the uInterview Podcast!
Get the most-revealing celebrity conversations with the uInterview podcast!