Director Jack Bryan On Documentary 'Active Measures,' Long Trump-Russia Relationship [VIDEO EXCLUSIVE]
The history behind President Donald Trump and his organization's collusion with Russia dates back more than 30 years, and documentary filmmaker Jack Bryan detailed this relationship in an exclusive interview with uPolitics.com about his new movie Active Measures. 
"Trump Tower was only the second building in New York to allow shell companies to buy condos," Bryan told uPolitics exclusively. "This made it a very interesting place for money laundering. In 1984, a Russian mobster met with Donald Trump personally and Trump sold him five condos. The state attorney general called that money laundering. So that's really the first clear act of illegality that we found in what became a very building and growing relationship between Trump and illicit Russians and eventually oligarchs, the mafia and Vladimir Putin."
The release of Active Measures feels very timely, given the fact that special counsel Robert Mueller's investigation into Russian interference in the 2016 election and potential collusion between Trump campaign officials and the Russian government has now passed the one-year mark. Many intelligence agencies have determined that Russia meddled in the election and could continue to intervene in future U.S. elections like the midterms in November, although Trump has continually said he believes Putin's denial of this. Trump's repetition of this following a summit with the Russian leader in Helsinki, Finland in July drew severe rebuke from many current and former intelligence figures.
WATCH PART 2 OF JACK BRYAN's INTERVIEW! 
Bryant clearly created a very relevant film whose title even seems very carefully chosen. The director revealed the phrase "active measures" comes from a term that originated in the Soviet Union and that is used to describe intelligence operations and actions that affect "political activity around the world surreptitiously."
"Whether it's funding opposition candidates that are pro-Russian, or attempting to take over the energy resources of another country, these are all used for political means by the Russian state and it's very overt, planned out and intentional," he said.
Why did the Russians choose Trump to collude with in the first place? Bryant says the real estate mogul's financial status decades ago, especially with regards to his casinos, helped fuel the relationship between the two.
"At first it was a loose affiliation in the 80s and 90s, but [Trump] became the perfect mark when he made a move on Atlantic City," the director said. "Three casinos, a massive investment, [he proved to be] wildly over-leveraged and he went completely broke. He was billions of dollars in debt and had no way of getting loans, and so the Russians he had loosely been working with basically entered the Trump Organization at that point and became his source for a lot of seed capital and development money that he would not have gotten back on top without."
Bryant also described how Russia has a history of meddling in many other countries' elections and political processes, like Georgia, where — much like Trump launched the "birther" movement in 2011 about then-President Barack Obama's citizenship status — the Russians would engage in tactics like accusing opposition party candidates and leaders in these nations of not being born in said country, or threatening to jail political opponents, like Trump did with Hillary Clinton during a debate in 2016.
"In fact, the 'Lock her up' chant started in Ukraine in an election that was backed by the Russians and run by Paul Manafort," said Bryant. "What [the Russians] learned is that it's much cheaper to get a government in a different country that is favorable to you than it is to invade that country. It has better results."
Bryant went on to say that he believes there is probably a real "pee-tape" of Trump given all of the information known from the dossier provided by former MI6 British intelligence agent Christopher Steele. The dossier claims Russian prostitutes urinated on a mattress in a Moscow hotel room Trump stayed at in 2013 while the city was hosting the Miss Universe pageant.
"I think the sexual compromise [of Trump] is likely. First of all, the Steele Dossier: everything that's come out of it seems to be confirmed. Second is that we know that night, [former Director of Oval Office Operations] Keith Schiller's bodyguard reported that the Agalarov family offered four women to come up to [Trump's] hotel room that night and kind of says, 'well, we didn't really take the offer.'"
"Given that circumstantial evidence, it is very likely and hard to imagine that it didn't happen," Bryant added.
SLIDESHOW: DONALD TRUMP'S 30 CRAZIEST TWEETS
The filmmaker finished off by saying that the fact Trump was a well-known businessman with political aspirations dating as far back as 1988 gave the Russians further reasons to watch him closely, particularly when he "threw his hat in the ring" to run for president in 2012 and 2016.
Active Measures is currently in theaters and currently streaming. Check back next week for Parts 2 & 3 of the interview.
Putin, Trump, and a conspiracy decades in the making. WATCH the official trailer for #ActiveMeasures. 8.31.18. pic.twitter.com/cr4WBdcL3j

— Active Measures (@ActMeasuresDoc) August 2, 2018
Read more about:
Leave a comment
You must be logged in to post a comment.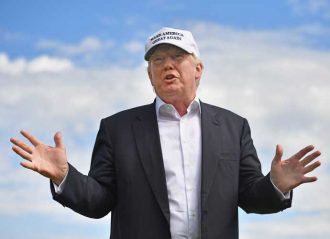 Click here for the Donald Trump's 30 Craziest Tweets Slideshow
Listen to the uInterview Podcast!
Get the most-revealing celebrity conversations with the uInterview podcast!