VA Nominee Ronny Jackson Reportedly Was Drunk On Duty, Over-Prescribed Drugs, Known As 'Candy Man'
White House physician Ronny Jackson, whom President Donald Trump has nominated to be the new Veterans Affairs Secretary, has continued to be the subject of allegations that he engaged in inappropriate behavior in the workplace.
Ronny Jackson Alleged To Have Been Drunk On White House Job
The main claims surrounding Jackson, which surfaced Tuesday, are that he often drank heavily while on the job, and even became drunk several times. Jackson — who was appointed as White House doctor by former President Barack Obama just months into his second term in 2013 — also allegedly prescribed doses of prescription medication to several White House staff and reporters who often travelled internationally, according to the New York Times. The Times said Ambien, a sleep aid, was among the drugs Jackson handed out.
SLIDESHOW: DONALD TRUMP'S 30 CRAZIEST TWEETS
The top Democrat on the Senate Veterans' Affairs Committee, Montana Sen. Jon Tester, told CNN in an interview this week that Jackson was nicknamed the "Candy Man" by several White House staff members because he distributed prescription drugs like they were candy.
Subscribe!
A week of political news in your in-box.
We find the news you need to know, so you don't have to.
"If you are drunk and something happens with the president, it's very difficult to go in and treat the president," Tester told CNN's Anderson Cooper. "That's what multiple people told us this was the case on several different trips."
Jackson's Senate hearing has been postponed in the wake of the allegations against him.
A CNN report on Wednesday described an incident Jackson was involved with in 2015 where the doctor began drunkenly banging on a female employee's hotel room door during a trip abroad. The report added that Secret Service agents became so worried about how loud Jackson was being that they stopped him in order to keep him from waking Obama.
Jackson, a former rear admiral in the Navy, issued Trump's health report during a press conference in January and was criticized for overly praising the president's body and overall health. The physician said Trump could "live to be up to 200 years old," among other extravagant comments.
Some elected officials have defended Jackson, saying they don't believe the allegations about him are true and that he is perfectly fit to lead the VA.
"He does deny that he's done anything wrong in his service to the country. And particularly his time at the White House as a physician in the medical unit," said Kansas Sen. Jerry Moran, a Republican. "He indicated that he knows of nothing that would prohibit him from being qualified, capable and the right person to the secretary of the Department of Veterans Affairs."
Jackson also reportedly once crashed a government vehicle while drunk.
Other officials have condemned the lack of vetting of Jackson and other Trump administration nominees.
Read more about:
Leave a comment
You must be logged in to post a comment.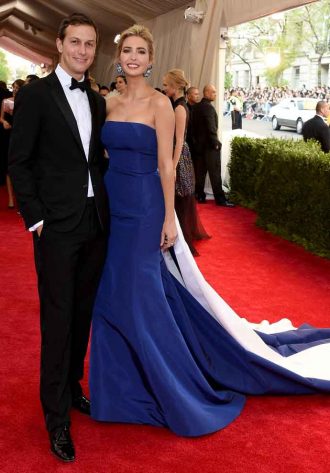 Click here for the 10 Most Powerful Political Couples Slideshow
Listen to the uInterview Podcast!
Get the most-revealing celebrity conversations with the uInterview podcast!