Trump Told Economics Adviser Larry Kudlow To "Not Worry About" Workers Hurt By China Tariffs
President Donald Trump and White House economics adviser Larry Kudlow got into a big argument about the consequences of Trump's actions in his trade war with China, it was reported this week.
According to The Washington Post, Trump and Kudlow "had it out" after the latter contradicted the president publicly by affirming that American workers and businesses would be most affected by Trump's decision to impose $200 billion in tariffs on Chinese-made goods like electronics, bicycles, clothing and drug store essentials like pens and greeting cards. China's government responded to this action with their own tariffs on $60 billion worth American imports.
The report also noted that Trump told Kudlow to "not worry about" how American businesses and workers would be affected by the tariffs.
Stephen Moore — whom Trump had named for a Federal Reserve board seat but has since withdrawn from consideration for the position — reportedly told the Post that Trump is unlikely to change his decision regarding Chinese imports unless a negotiation is reached that would alter the terms of U.S.-China trade policies.
Subscribe!
A week of political news in your in-box.
We find the news you need to know, so you don't have to.
"I don't see him crying uncle anytime soon," said Moore. "It's a high-risk strategy, but it's not in his personality to back down. This goes back to what he said that first time he came down the escalator at Trump Tower."
SLIDESHOW: TOP DEMOCRATS RUNNING FOR PRESIDENT IN 2020
Trump also tweeted Monday that there is "no reason" American taxpayers should have to bear the burden of the tariffs on China because the country subsidizes many of its products.
There is no reason for the U.S. Consumer to pay the Tariffs, which take effect on China today. This has been proven recently when only 4 points were paid by the U.S., 21 points by China because China subsidizes product to such a large degree. Also, the Tariffs can be…..

— Donald J. Trump (@realDonaldTrump) May 13, 2019
…completely avoided if you buy from a non-Tariffed Country, or you buy the product inside the USA (the best idea). That's Zero Tariffs. Many Tariffed companies will be leaving China for Vietnam and other such countries in Asia. That's why China wants to make a deal so badly!…

— Donald J. Trump (@realDonaldTrump) May 13, 2019
..There will be nobody left in China to do business with. Very bad for China, very good for USA! But China has taken so advantage of the U.S. for so many years, that they are way ahead (Our Presidents did not do the job). Therefore, China should not retaliate-will only get worse!

— Donald J. Trump (@realDonaldTrump) May 13, 2019
Read more about:
Leave a comment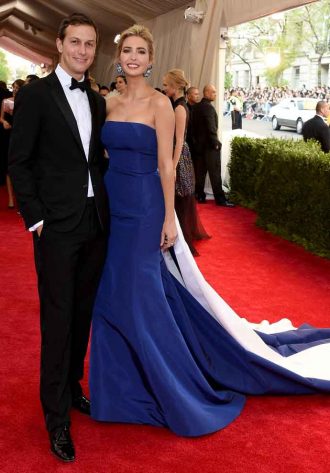 Click here for the 10 Most Powerful Political Couples Slideshow
Listen to the uInterview Podcast!
Get the most-revealing celebrity conversations with the uInterview podcast!